UK Weather Warning: Britain Braced for Wind, Rain and Snow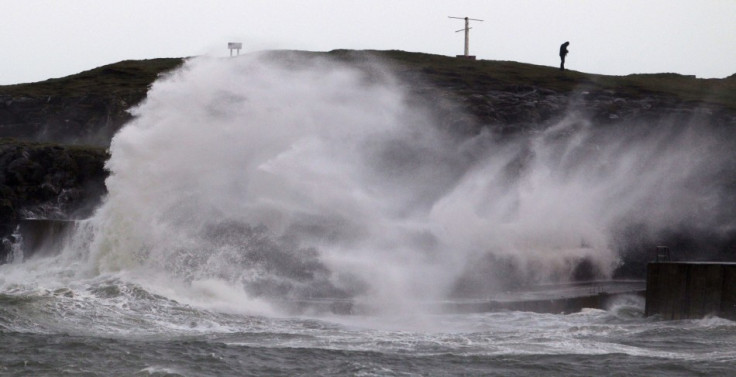 Weather warnings are in place across Britain as patches of low pressure will bring in storms to batter the South coast on Thursday.
Winds are expected to hit up to 80mph in exposed areas, while heavy rain is expected to cause localised flooding.
Experts at the Met Office are confident that the storm will not hit the heights of the hurricane-strength winds that battered Scotland last week.
"The picture we are looking at is extremely unsettled," a Met Office spokesman told the International Business Times UK.
"The storm that we have been keeping an eye on will come on Thursday. It's a strong storm, but it seems like most of the impact will be to the South of the UK and on the Continent.
"The worst part for winds is normally to the south of the eye of any storm and it looks like it will run along the coastline.
"It will certainly bring some heavy rains and possibly some flooding."
Areas north of the storm, across the Midlands, could see some snowfall, which could be heavy in Scotland, as cold winds continue to come in from the West.
The storm is expected to ease by Friday, with calmer winds, although rain is set to continue. The unsettled, wet and windy weather is set to continue for the weekend.
Temperatures are not expected to rise any higher than 5 degrees celcius, dropping below freezing in the north.
"This weather is actually not out of the ordinary for this time of year, but we have not had it for the last three years or so," the spokesman added.
"Last year what we had was fairly calm winds, a blocking pattern, allowing freezing eastern winds to come in and bring the temperature right down, and with it the snowfall.
"This year things are completely the opposite. We have a zonal pattern with western winds bringing in relatively normal temperature, but wet and stormy conditions. We have been spared minus 15 temperatures of last year.
"The huge winds in Scotland were pretty exceptional however."
Yesterday saw South Wales, Northern Ireland and the South West battered with heavy rain and high winds.
Houses lost power, while 65-year-old Richard Wilkinson had a lucky escape when a 60ft beech tree was blown onto his house.
Floods were recorded throughout Devon and Cornwall and a helicopter had to be brought in to rescue a walker after a 20ft fall in the area around Colwyn Bay.
© Copyright IBTimes 2023. All rights reserved.