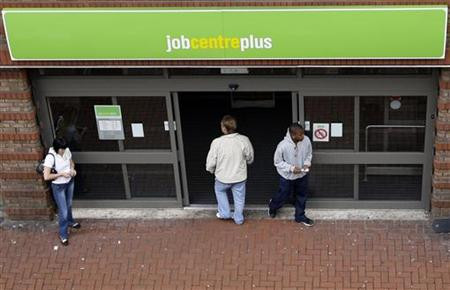 Unemployment in the UK has risen to 2.57 million - the highest level since 1994 - official figures showed Wednesday.
Youth unemployment also reached a record high of 991,000, with the number of Britons not in work increased by 114,000 between June and August, while the number claiming jobseeker's allowance increased for the seventh month in a row, to 1.6 million.
Other figures showed a 178,000 slump in unemployment in the quarter to August - the biggest fall in more than two years - and the number of part-time workers dropping by 175,000 and a record reduction of 74,000 in the number of over-65s in employment.
The UK jobless rate now stands at 8.1 per cent, the highest since 1996, compared with forecasts for a reading of 8.0 per cent.
Taking the inactivity rate and the new figures, the stats show that half of 16- to 24-year-olds are now not employed, meaning this age group is the worst affected by the slowdown in the labour market.
"It is clear that we are seeing the effect of the international economic crisis on the UK labour market," said Employment Minister Chris Grayling.
Around 150,000 people were made redundant in the UK in the past three months, an increase of 6,000 in the past quarter.
Average weekly earnings including bonuses did grow by 2.8 per cent, but were 0.1 per cent short of analysts' predictions.