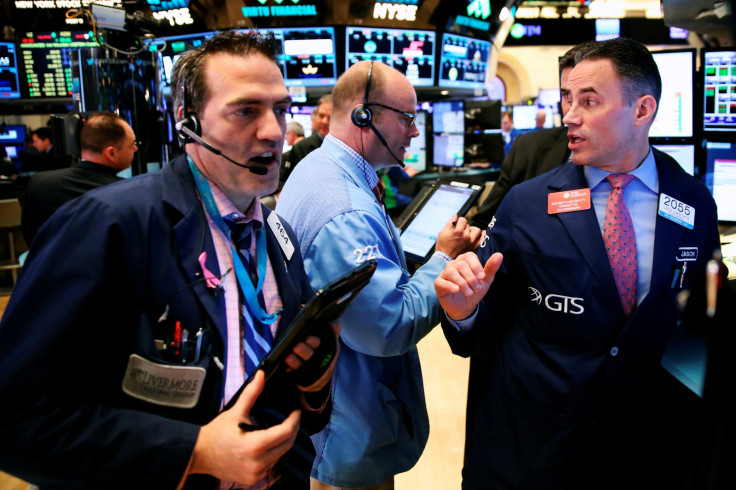 US stocks closed with gains of more than 1% on Tuesday (24 May), marking their best day since March, as the tech and financials sectors rallied. Encouraging reports on the housing market and gains in the European markets also contributed.
The Dow Jones Industrial Average surged 213.12 points, or 1.2%, to settle at 17,706.05. According to CNBC, 3M, UnitedHealth, Visa and Goldman Sachs were the top contributors to gains to the blue-chip gauge. Gains by Microsoft Corp and Intel Corp of more than 2% led 29 of the 30 blue-chip components higher. The Dow posted its best day since 11 March.
The S&P 500 rose 28.02 points, or 1.4%, to close at 2,076.06 with all 10 of its main sectors ending in positive territory. MarketWatch reported that nearly a fifth of the S&P's shares were up more than 2%, another 40% were up more than 1% and less than 10% were in the red. Tech was up 2%, while financials and healthcare were up about 1.5%. Like the Dow, the S&P 500 had its best day since 11 March.
Meanwhile, the Nasdaq Composite outperformed, jumping 95.27 points, or 2%, to settle at 4,861.06 for its strongest one-day gain since 1 March. Apple surged 1.5%, while the iShares Nasdaq Biotechnology ETF (IBB) closed nearly 2.3% higher and the VanEck Vectors Semiconductors ETF (SMH) closed up 2.4%, according to CNBC.
The stock rally follows hawkish Federal Reserve minutes and comments from officials suggesting a rate hike could take place as early as June. According to the CME Group's FedWatch tool, Wall Street is pricing in a 38% possibility of a June hike and a 58% possibility of a hike in July.
CNBC reported that new home sales for April surged 16.6% to a seasonally adjusted annual rate of 619,000 units, which exceeded expectations and was the highest level since January 2008. "You've got to see some pockets of growth if the Fed is going to raise rates and you've got the new home sales and the derivatives of home sales," noted Quincy Krosby, market strategist at Prudential Financial.
The US dollar traded up more than a third of a percent, with the euro around $1.114 and the yen near 110 yen against the greenback. The British pound sterling hit its highest since 19 May at around $1.463. Treasury yields traded mostly higher, with the 2-year yield holding around 0.91% after the Treasury Department sold $26bn (£17.7bn;€23.3bn) in two-year notes at a high yield rate of 0.92%. The 10-year yield traded at around 1.86%.
Major European indexes closed over 2% higher, with the Euro STOXX closing 3.5% up and the German DAX posting its best day in five weeks. "I think perhaps the market's rallying a bit on a pullback of the likelihood of 'Brexit,'" Jack Ablin, chief investment officer at BMO Private Bank told CNBC.
Unlike European markets, Asian markets ended mostly down, with blame being pointed to weak commodity prices and uncertainty of the next Fed rate hike, MarketWatch reported. The Shanghai Composite closed down nearly 0.8% and the Nikkei 225 down 0.9%.
US crude oil futures traded up $0.54 (£0.37;€0.48) at $48.62 (£33.25;€43.63) a barrel for its highest since October. Gold futures, meanwhile, settled down $22.30 (£15.25;€20.01), or 1.7%, at $1,229.20 (£840.62;€1103.06) an ounce.