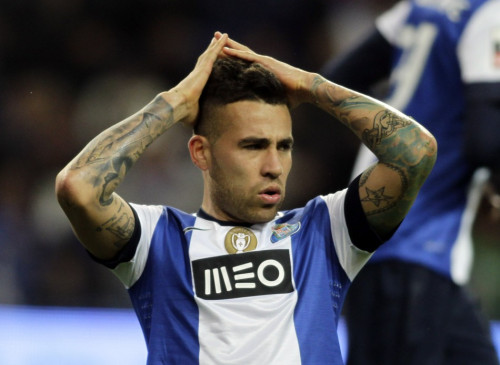 Valencia sporting director Francisco Rufete has revealed that Manchester United pulled out from signing Nicolas Otamendi from FC Porto during the January transfer window.
The Premier League champions were keen on signing the centre-back in the mid-season transfer window while their league rivals Chelsea were also reportedly interested in signing the Argentine defender.
Rufete confirmed David Moyes's side made an approach in signing Otamendi while he was with the Portuguese outfit last month. However, United rejected the chance to bring the centre-back to Old Trafford, which saw Valencia make a move in bringing him to Spain.
The Spanish outfit confirmed the arrival of Otamendi and have sent him on loan to Atletico Mineiro for the rest of the season. Rufete admitted that Valencia acted quickly in signing the defender as he believes that it would have been a difficult task for the club to sign the player after the World Cup.
"If I try to buy Otamendi after the World Cup, it's possible he couldn't come. A great sacrifice and a lot work was necessary for him to come. He will explain that when he arrives. We saw that Manchester United pulled out and we moved in," Goal.com quoted Rufete as saying.
Rufete earlier admitted that Otamendi will not be a part of the Spanish club's squad for the current campaign and will join Valencia in the summer. He also expressed his delight after the La Liga outfit were successful in signing the defender from Porto.
"We have a great squad and we are convinced that Nico Otamendi will help us to improve from next season onwards, because he is a world-class talent," Valencia's sporting director said.
"He is a strategic incorporation for our project and we are fortunate that he has chosen Valencia CF out of the many clubs vying for his signature. The arrival of Otamendi is great news for all Valencianistas and for the future of our side," he added.
United skipper Nemanja Vidic has announced his decision to leave the club at the end of the season. With the Premier League champions rejecting the chance to sign Otamendi, Moyes would enter the market to find a replacement for the five-time Premier League winner in the summer.