Valve has launched a new initiative on its digital distribution platform, Steam, which allows users to purchase and play games that are still in development.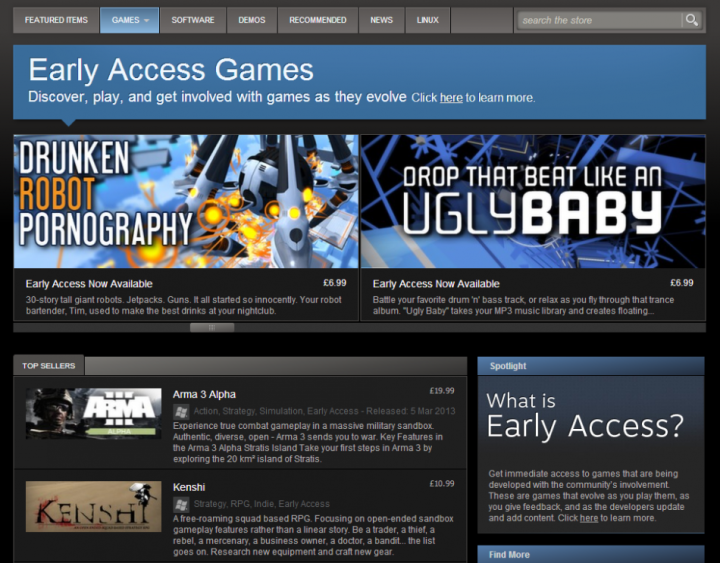 'Early Access' currently showcases 12 titles in various stages of completion, including military shooter ArmA III and strategy game Prison Architect. Players can purchase games as they are in their current form in order to test them out and give feedback and suggestions to the game's developers.
When the full version of the game is released, people who bought it on Early Access will be able to download it with no extra charge.
The idea is to allow game developers to glean consumer feedback on any bugs or problems with their games. Similar to open beta testing, Early Access is a useful platform for smaller developers who may not have the resources to hire independent testers and may be seeking to generate more capital to fund their on-going development project.
"These are games that evolve as you play them, as you give feedback, and as the developers update and add content," the Early Access information page explains.
"[Valve] likes to think of games and game development as services that grow and evolve with the involvement of customers and the community. There have been a number of prominent titles that have embraced this model of development recently and found a lot of value in the process. We like to support and encourage developers who want to ship early, involve customers, and build lasting relationships that help everyone make better games. This is the way games should be made."
Valve is also working to promote independent and smaller game studios via its Greenlight initiative, which was also launched via Steam, last September. Developers submit their games onto Greenlight where Steam users can vote on which ones they would like to see integrated into the full Steam store.
Any game which is voted through Greenlight is also now eligible to be featured on Early Access.