Seduce Me, a new point-and-click dating sim developed by Dutch indie studio No Reply Games, has been banned from Valve's Greenlight service due to its alleged explicit content.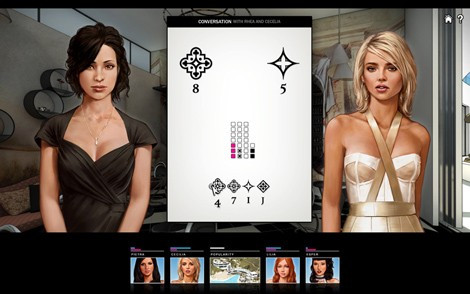 Screenshots from Seduce Me (which feature frontal nudity and in-game sex scenes) appeared on Greenlight last Thursday, but were quickly replaced with an error message claiming the game had been removed for violating Valve's terms of service agreement.
Shortly afterward, No Reply Games received a generic email from Valve, explaining that Seduce Me's sex scenes had contravened Greenlight's usage policy.
But, despite Valve's marketing director Doug Lombardi defending the decision to remove the game, telling games news webiste Kotaku: "Steam has never been a leading destination for erotic material [and] Greenlight doesn't aim to change that," fans have accused Valve of hypocrisy, citing games like The Witcher and Call of Duty (which both appear on Steam despite featuring explicitly violent content) as examples of the gaming industry's double standards.
"2D is too sexy for Steam" commented one user "but here, play this game where you can decapitate people."
"If pornography has no place in videogames, why do we have Duke Nukem Forever?" wrote another.
Valve has promised to rewrite Greenlight's terms of use to more clearly explain what kinds of material they deem unacceptable; since then, they have made no further comment.
But Miriam Bellard, lead designer on Seduce Me continues to defend the game. Speaking to IBTimes UK she said:
"In literature, erotic fiction is an accepted category and you can find it at your local bookstore without any fuss. The same should be true for games, but it isn't. I find it strange that if sex is placed in the context of an action game - i.e. if we have both sex and violence - then the sex is deemed acceptable and appropriate - but if the sex is enjoyed for its own sake, without any surrounding violence, then it is considered inappropriate and offensive.
"In relation to our game and in relation to the chances of a new erotic-game genre, I feel both worried and hopeful: I'm worried because games like ours have nowhere to belong, [but] I'm hopeful because of the reaction of journalists and a large portion of their readers. There has been overwhelming support. A lot of people - especially people in Europe - are very unhappy with the 'violence is ok, sex is not' view."
Along with No Reply co-founder Andrejs Skuja, Bellard is now working to get Seduce Me published by indiecity.com, a smaller reseller who have been quick to offer their support. But she says this experience has changed her feelings towards Greenlight and Valve:
"I have lost a lot of respect for them. I used to view them as being on the side of free speech and on the side of the underdog. Their treatment of our game has, of course, changed this view. Greenlight is supposed to be a place where the gaming community can have their voices heard, a place where the gamers get to say what they think should be on Steam. And yet, with our game, Valve chose not to give them that voice."
Considering Valve's creativity first philosophy, epitomised by their flatpack, "bossless" business structure, that they would censor anything has come as a surprise to their entire games industry.
Moreover, their decision to promote games like Let's Get Fiscal, which seems to include a similar level of sexual imagery to Seduce Me, has left many Steam users confused about Greenlight's term of use policy; hopefully the refined guidelines will better explain exactly what games are acceptable on Steam.
Nevertheless, Bellard's and Seduce Me's story has left many wondering whether Greenlight really is the right place for creative-minded, independent game developers.