Venezuela is gearing up for vital mayoral and city council elections on Sunday in polls that observers see as a de facto referendum on the popularity of embattled president Nicolas Maduro.
The elections, in which Venezuelans vote for 337 mayors and 2,500 council positions, are the first since April's presidential polls, when Maduro clinched victory by a narrow margin of 1.5% of the vote.
The local elections could prove a test of how voters feel about the ruling United Socialist Party of Venezuela eight months on, as inflation, power cuts and food shortages blight the country.
Maduro's ruling party announced that it would hold pro-Hugo Chavez rallies during the elections in a bid to invoke the spirit of Venezuela's hugely popular former leader, who died in March.
The move has been ridiculed by critics, who accuse Maduro of being incapable of stepping out of Chavez's shadow.
Vicente Diaz, a member of the board of the National Electoral Council, said the rallies would make the municipal polls "the most outrageous campaign Venezuela has had in many years - I'd dare say in Venezuelan history".
Deeply divided
Venezuela remains a deeply polarised society. Chavez championed a socialist model that gained him widespread support among the poor but drove a dividing line between the working classes and the elite, from whom Chavez seized land for redistribution to the poor.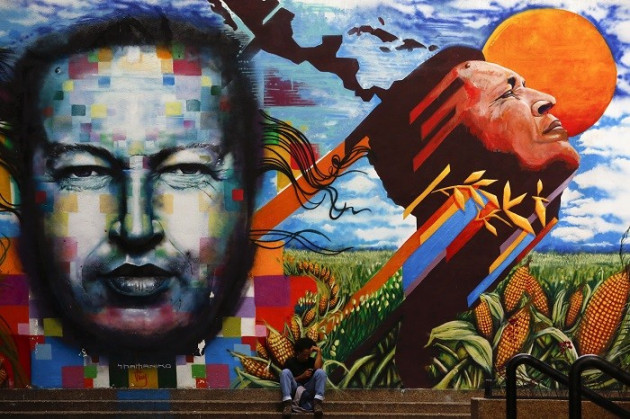 The dividing lines remain and Maduro has sought to continue Chavez's pro-poor agenda. Last month, he mobilised troops to sell electrical goods at "fair prices" and arrested several businessmen for increasing the cost of their goods.
The move was popular with ordinary Venezuelans, with scores of people queuing up overnight to secure bargain merchandise, some of which was sold at a quarter of the price listed days earlier.
The opposition United Democratic Roundtable (UDR), which is also contesting Sunday's elections, remains unimpressed and blames Maduro for Venezuela's current economic woes, which include stagnant growth and plummeting black market value of the national currency.
UDR is an umbrella movement of several opposition groups founded in 2008 to oppose first Chavez and now Maduro. The opposition, led by former presidential candidate Henrique Capriles, accuses the government of intimidating media outlets that give airtime to dissenting voices and using state media as a mouthpiece to advance its own agenda.
The opposition is expected to make some gains, particularly in Venezuela's largest cities, while Maduro's ruling socialist party will claim victory in more rural areas. For now, the politicking continues as Venezuelans and the world wait to see who will emerge victorious.