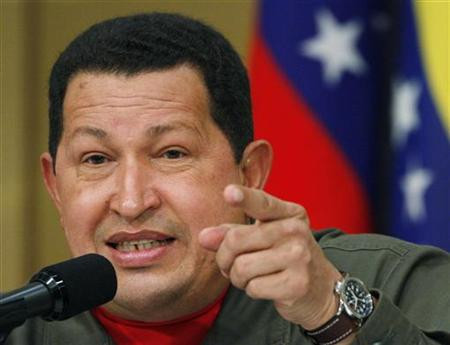 With no heir apparent to Venezuela's presidency, politicians are jockeying for power as President Hugo Chavez undergoes medical treatment in Cuba.
The Venezuelan leader has voluntarily kept a low profile since officials first announced that doctors operated on him three weeks ago, although that discretion did not prevent speculations about his health and the country's political future.
However, the revelation Thursday night that doctors in Cuba had removed a cancerous tumour is likely to further fuel dissent in the ranks of Chavez's supporters, according to one former Venezuelan official.
"The main conflicts are inside the Chavez forces, with different factions, over who is going to be the successor," said Moises Naim, a former Venezuelan trade minister who is a senior associate at the Carnegie Endowment for International Peace.
Attempting to reassure the public, Chavez said that he had remained in close contact with Venezuelan leaders and continued to command the country's government from Havana. He remained cautious while commenting on his health saying that he was still undergoing treatment, adding that his condition was "evolving satisfactorily."
Appearing live on state television shortly after Chavez's speech, Venezuelan Vice President Elias Jaua called for unity.
"There is no time for sadness, but time for reflection, for courage and for work," he said, standing beside a group of government ministers.
But some analysts said Chavez's illness has already transformed the public's perception of his government, no matter how his treatment proceeds and cracks will be hard to heal.
"Here's a guy who was the strongman, and this has exposed some real frailty," Inter-American Dialogue President Michael Shifter said before Chavez's speech. "Even if he's recovered and comes back, this still showed that he's mortal."
Most importantly, while Chavez said he was continuing treatment in Cuba, he did not specify how long he will have to stay there, where the cancerous tumour was located or when he would return to Venezuela.
Naim said the small amount of information Chavez released in his speech could have a large political impact.
"He has cancer. He has more treatment. ... So the notion that we have Chavez for an almost indefinite period is no longer a reality," Naim said. "The notion of a Venezuela without Chavez is now in the minds of millions of people that never imagined it."
Larry Birns, director of the Council on Hemispheric Affairs, said before Chavez's speech that it would be difficult to transfer the Venezuelan leader's authority to another leader: "What we're talking about is a government that has been personalized around Chavez."
In recent days, analysts say it appears that the president's brother, Adan Chavez, has tried to position himself as next in line for the country's top job.
"It would be unforgivable to limit ourselves to only the electoral and not see other forms of struggle, including armed struggle," Adan Chavez reportedly said Sunday -- citing Latin American revolutionary Che Guevara -- in remarks widely quoted in Venezuelan media.
"That made it sound as if [Hugo] Chavez might be seriously ill," Susan Kaufman Purcell, director of the Center for Hemispheric Policy at the University of Miami, told CNN before Chavez's speech. "If so, the starting gun for who's going to succeed him just went off."
But Purcell noted that "Nobody has the personality and the charisma that seems to be effective at winning support, principally among the many poor people in Venezuela," she said.
"This also has a big impact on the opposition, which realizes for the first time that Chavez might not necessarily be there forever, which will change their strategies and their calculations as well," she added.
While Adan Chavez, the President's son tries to position himself as his father's successor, he might quickly run out of luck. Internal divides within the Chavez camp have recently been reported, so should Adan attempt to take over, he will have to face the political opposition, armed dissidents and the people from his own camp. It remains to see however how long Elias Jaua will be able to maintain the government with Hugo Chavez .