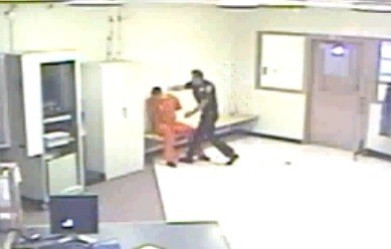 Surveillance footage has emerged of a New York prison officer beating inmate David Coffey in an incident which sparked a £40,000 lawsuit settlement and the officer's resignation.
The video, obtained by newspaper group Gannett, shows Tioga County warder David Monell punching the prisoner, who was in handcuffs, at least six times in the head and grabbing him around the throat.
Although there is no audio on the video, an officer told investigators that Monell said: "You're going to regret this day" before launching the attack.
Coffey was allegedly pepper-sprayed moments before the incident because of "uncooperative behaviour". Monell was awarded the nationwide "2010 Correction Officer of the Year" by the New York State Senate the following day but then resigned.
Coffey suffered several abrasions around face and neck, a swollen jaw and a gouged eye leaving him with vision problems, prompting his successful lawsuit.
"You wouldn't treat a dog like that," said his attorney, William Friedlander.
See the video: