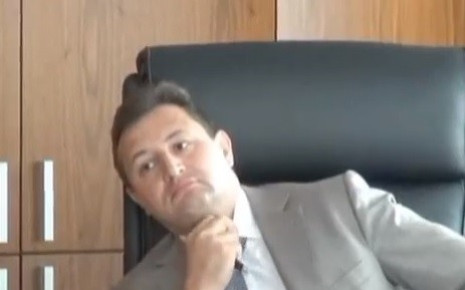 Societe Generale's chief executive of its Russian unit Rosbank was detained, by Russia's Interior Ministry on suspicion of accepting bribes.
Vladimir Golubkov was apparently caught with cash on his desk after demanding $1.5m from a company seeking to modify loan terms, according to a number of media reports.
The Russian ministry released television footage showing uniformed officers barging their way into Rosbank's headquarters. It then cuts to a scene scene of Golubkov standing in his office with several wads of 5,000 rouble ($150) notes piled on the desk in front of him.
Andrey Pilipchuk, an Interior Ministry spokesman in Moscow told Bloomberg that the CEO had 5 million rubles ($159,000, €123,516) out of the amount he'd asked for prolonging the loan and reducing the interest rate.
According to the report, Golubkov had a senior vice president collect the bribe from a company official.
The same senior VP tipped off the police but was arrested when she accepted the money.
However, Pilipchuk said that after agreeing to cooperate with police, she passed the cash to her boss.
The arrest of a banker at such a senior level "hasn't happened before in Russia, in my memory," Pilipchuk said.
The raid at his offices falls in line with President Vladimir Putin's pledge to crack down on corruption in business.
Rosbank has since named first deputy CEO Igor Antonov as interim chief. It said that it is cooperating with the authorities but did not confirm the identity of the detained executives.
SocGen had not returned calls for comment from the IBTimes UK by the time this article was published.
The relevant contact at Russia's Interior Ministry was also not immediately available for comment.
Check out the footage of Golubkov apparently being caught in the act from footage released by the Russian authorities: