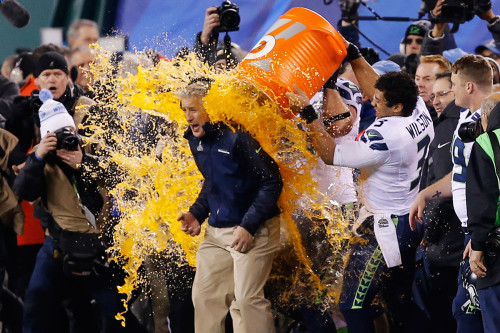 When the Seattle Seahawks beat... sorry, annihilated the Denver Broncos at Super Bowl XLVIII it was a proud moment for a city short on major sporting victories.
Some quarters of the web, however, are trying to detract from their victory by claiming the event – despite its many variables - was somehow fixed.
During the game, with the score at 15-0, one Yahoo user cried foul and laid out his vision for the rest of the game that he guaranteed would happen.
"So the score is 15-0," he said. "I guarantee all the NFL is doing is sitting up a Peyton [Manning, Broncos quarterback] 4th quarter comeback to make him look good. It's fake. Guarantee you they let that bum Peyton win."
Well, as it turns out that didn't happen, and the Seahawks cruised to a 43-8 win, the biggest margin seen in America's showpiece sporting event for two decades.
After the game, however, a number of outlets cited a report on Huzlers that the game was rigged and that the NFL are investigating. The article, however, was satirical, but some outlets still reported it as fact and soon real people were getting caught up in believing it.
The article says: "Super Bowl referee Terry McAulay told reporters he sensed something strange when he overhead Broncos Quarterback Peyton Manning allegedly asking Seahawks head coach Pete Carroll 'When are you going to pay up?' McAulay immediately became suspicious and notified other officials and that's when it all started.
"The NFL is currently investigating the situation and looking for evidence to prove the game was rigged. NFL commissioner Roger Goodell told reporters "'This is like that Chicago White Sox scandal back in 1919, I can't believe this, they ruined the sport, I just can't believe it.'"
It's not at all satirical and most likely created to drive traffic (hence us not linking to it) and dupe people, as it appears to have done.
Of course many others did their research and understood the article to be a fake.
And most improtantly of all...