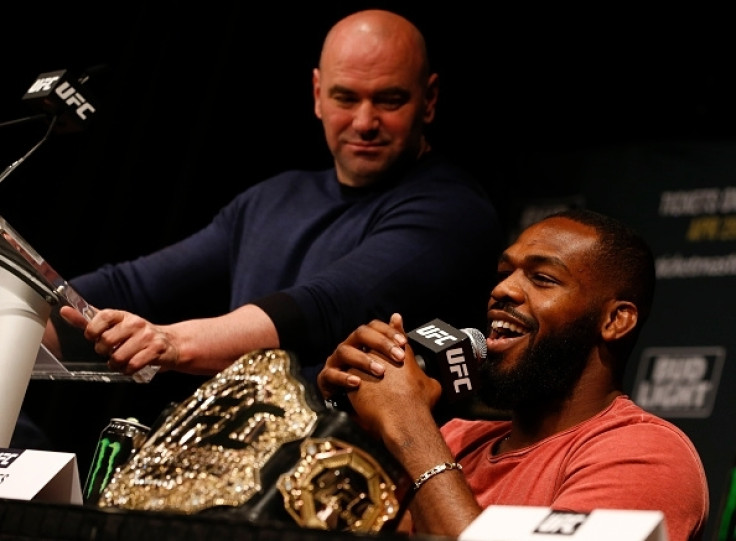 The pre-fight press conference ahead of UFC 214 took place on Wednesday (26 July) with most of the attention being on the long-awaited rematch between light heavyweight champion Daniel Cormier and Jon Jones.
In what has become the most heated rivalry in UFC history, Jones (22-1 record in MMA) will look to reclaim the title that he never lost while Cormier (19-1 record in MMA) will be hoping to avenge his only career defeat to the 30-year-old.
As the conference got underway, soon enough, the topic about the use of steroids came up. Jones was suspended for one year for anti-doping violations when he was pulled from the main event of UFC 200 in June 2016 where the rematch was supposed to take place.
Cormier claimed Jones was using performance-enhancing drugs for all but three fights in his UFC career.
"Well, you've probably, I imagine you're about 3-0 in the UFC, those first three fights," Cormier told Jones. "Ovince St. Preux or that other guy, what's the name of that guy he beat? Stephan Bonnar. Stephan Bonnar that is when you didn't do steroids, but everything else in the middle."
Jones replied with his own jab: "You look like a junkie here tonight. He looks like a junkie here tonight. You look like a crackhead with a suit on."
"I might look like a crackhead with a suit on but I've never been a crackhead with a suit on," Cormier retorted, referencing Jones' history with drug use. "So you can say I look like one, but I've never been one."
The back-and-forth insults continued until UFC President Dana White was asked about the recent rumours involving a potential superfight between "Bones" and Brock Lesnar.
"I don't even know where that thing came from or how it started," White replied. "First of all, believe me, I haven't talked to Brock Lesnar and I don't know."
Jones proceeded to respond right after getting a roar from the fans in attendance: "I will deal with Daniel, and then I'll deal with Brock Lesnar."
As for the co-main event between welterweight champion Tyron Woodley and Demian Maia, a reporter asked what a future fight for the winner would be, given the rumours of UFC legend Georges St-Pierre's return bout.
White had previously mentioned that St-Pierre would not fight for the middleweight title but instead face the welterweight champion whenever he was ready. However, "GSP" recently claimed on Michael Bisping's podcast that he still wanted to face the middleweight champion.
White though, claims the plan is still for St-Pierre to face the winner of the Woodley vs Maia fight.
"That's the plan as of right now, whoever wins this fight fights GSP," White added. "But GSP's people are here today to speak to me, so we'll see what happens. We'll see how this goes. That is the plan as of the last time I talked to him."