Brock Lesnar open to fight UFC 214's Jon Jones 'anytime, anywhere'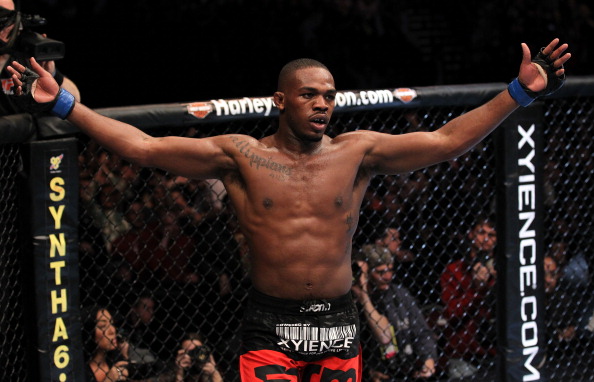 KEY POINTS
Jones will make his long-awaited return to the octagon at UFC 214 on Saturday (29 July).
Lesnar's USADA suspension for failing multiple drug tests is currently frozen.
Brock Lesnar has reciprocated Jon Jones' desire of a possible dream fight between the two former UFC champions.
Jones (22-1 record in MMA) is set to challenge Daniel Cormier for the light heavyweight title at UFC 214 on Saturday (29 July) following a one-year suspension.
Arguably the most talented fighter in UFC history, Jones has repeated many times of his desire to be a two-weight champion, possibly fighting in the heavyweight division in the future.
When asked recently about the prospect of facing former heavyweight champion Lesnar amid rumours that it was a possibility in 2018, "Bones" replied positively.
"I would love to fight Brock Lesnar," Jones said, as quoted by MMA Weekly. "He's a massive dude, it would be a massive draw, really big for the sport. It would be a great challenge. That's a big old boy."
As for Lesnar, he too, is open to the idea of a fight with Jones: "Would I fight Jon Jones? Anytime, anywhere. Right now he should be worried about DC on Saturday night," Lesnar told The Associated Press.
However, it is not that simple as the current WWE Universal champion still needs to serve the remaining months left of his own one-year suspension from the United States Anti-Doping Agency (USADA).
Lesnar (5-3-1 record in MMA) returned to the octagon last year for UFC 200 in June 2016 where he defeated Mark Hunt via unanimous decision.
However, the result was overturned to a no contest as Lesnar tested positive twice for a banned substance called clomiphene and was given a one-year suspension.
"The Beast" then reportedly retired from the UFC for a second time in February, meaning that his suspension was frozen as he was no longer in the USADA drug testing pool as per the company's policy.
So in order for a possible Lesnar vs Jones fight, the 40-year-old would still have to serve five months of his suspension before he could take part in the octagon again.
While most would scoff at the idea of a potential fight between the two in 2018, anything is possible, especially given the boxing match, which will take place on 26 August between Floyd Mayweather and Conor McGregor.
© Copyright IBTimes 2023. All rights reserved.