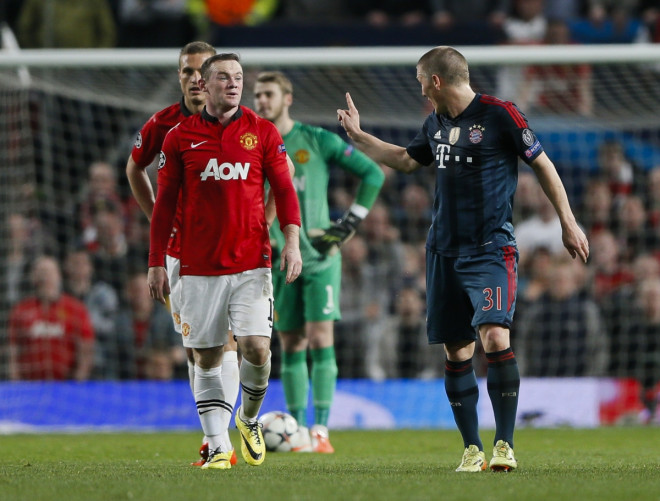 Manchester United star Wayne Rooney has denied that he cheated to get Bayern Munich midfielder Bastien Schweinsteiger sent off during their 1-1 draw at Old Trafford.
The incident took place in the final few minutes of the match when the England international dived in order to not get hurt from the tackle made by the German midfielder. Schweinsteiger was already on a yellow card for a tackle on Michael Carrick in his own half earlier in the game.
Schweinsteiger equalised for his side after Nemanja Vidic opened the scoring for United. The referee showed Bayern's goal scorer his second yellow of the evening, which meant he would miss the return leg against David Moyes' side.
"I don't really want to say what he [Schweinsteiger] said, but it was a foul. He could have hurt me, he's gone in with his studs and the referee has booked him," Rooney explained.
"It's not nice to see anyone sent off and I didn't try to get him sent off. It could have gone either way. I've tried to stop myself getting hurt and the referee has had a decision to make."
Schweinsteiger joins Javi Martinez in the suspension list and the duo, along with Thiago Alcantara (injury), will miss the second leg at Allianz Arena.
Despite the absence of three key midfielders for the return leg in Germany next week, Rooney claims Pep Guardiola has enough players in the squad to fill the void left by Schweinsteiger and Martinez.
"He's a great player and obviously he is someone they will miss, as they will Martinez. But they have got a great squad and players who will come in," United striker said.
Meanwhile, Bayern's sporting director Matthias Sammer has expressed his frustration after Schweinsteiger was given the marching order, while United's Antonio Valencia was allowed to stay on the field after his challenge on Jerome Boateng.
"There's no question that what Schweinsteiger did was a foul, but with Valencia, there were also several fouls, including his outstretched leg against Boateng. At this level, you have to apply the same standards," Sammer said.
"And if you apply the same standards then I don't know how Valencia stays on. If the referee has a policy, then he must go through with it," Bayern's sporting director stressed.