In one of the most surprising acquisitions ever in the tech industry, Facebook has announced a deal to purchase WhatsApp for $19 billion. Yes, you read that right, $19 billion.
For that money you could buy the 10 most valuable football teams in the world (all of them) and have enough left over to buy the best NBA basketball team, the Miaimi Heat. It is more than the Gross Domestic Product of Iceland or the UN's entire annual aid budget.
In short, it is a lot of money to pay for an app - especially one which made a paltry $20 million in 2013.
Then again, when you consider that Facebook paid $1 billion for Instagram which made absolutely no money, WhatsApp could be seen as a bargain.
I think the reaction to the news was summed up rather succinctly by the former tech editor of the Wall Street Journal in Europe, Ben Rooney, when he said:
"Seriously. I know how this works and everything, but really, they paid what for a frickn' app?"
But what exactly is WhatsApp?
WhatsApp is a free instant messaging app which works on virtually every smartphone and feature phone platform (iOS, Android, Windows Phone, BlackBerry, Symbian, Nokia S40 devices) allowing users to send and received messages, pictures, video, audio messages, maps, and contact information.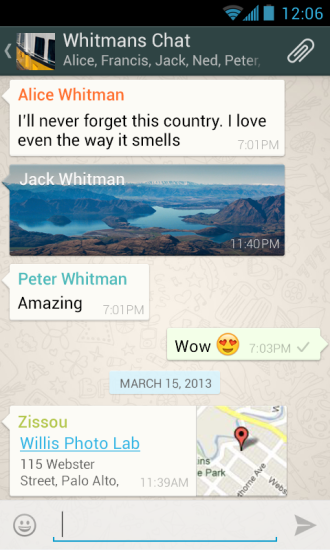 It was founded by Jan Koum, who immigrated with his mother to Mountain View in California from Ukraine when he was 16. Having worked at companies like Ernst & Young and Yahoo, Koum found himself at a loss in 2009, unsure what to do next.
He picked up an iPhone and in the App Store saw huge potential to create something new. Within a month he had incorporated WhatsApp Inc and launched a verison of the app which just allowed you to change your status, and not send messages at all.
Initial growth was slow and steady, as the company added more and more features, including adding picture messaging and group chats, popularity exploded.
The company also toyed with paid and free versions, sometimes making the app paid for in order to slow growth when they couldn't keep up with demand. However it soon transpired that even making customers pay $1 for the app wasn't enough to slow growth.
While messaging apps like Viber, Line and WeChat are now well established entities, WhatsApp was the first to see the opportunity of letting users avoid paying SMS fees and send instant messages globally for free.
Why did Facebook pay $19 billion for WhatsApp?
The internet has been speculating for many hours now about why, but the simple answer is we don't know.
On the face of it, paying $16bn for an app that made $20 million in revenue last year seems crazy. Yes it has a large - and growing - user base, but remember that Facebook already has its own instant messaging app, Facebook Messenger, which is one of the most downloaded apps on both iOS and Android.
Benedict Evans, a telecoms analyst, points out this is not really about free SMS. Evans says he has counted more than 50 "mobile social apps" which have been downloaded more than 1 million times, and Evans believes they now "have the opportunity to be a three channel, in parallel to Google and Facebook."
While it is certain there will be some consolidation in the space, it is unclear if one or two apps will dominate, or if it will be based more on a geographical spread.
WhatsApp ads?
WhatsApp founder Koum has been steadfast in his policy of having no ads on his app, and this won't change following the Facebook acquisition, so the social network believes it will find value elsewhere in the deal.
Jamie Hockin, strategy director at Collider believes this will come from user migration:
"It's a big leap to assume that simply by acquiring the app, that WhatsApp users will independently start to interact with Facebook. This is crucial to the success of the deal, as Facebook will want to migrate users from WhatsApp, where there are no adverts, to its own platform in order to monetise them."
Another reason floated for the acquisition is based on geography. According to Global WebIndex stats, WhatsApp has big penetration (more than 70%) in Asia, South Africa and Spain, while it has only had moderate success in the UK (29%) and in the US, penetration is just 4%.
Facebook already has saturated the US market and it is now looking to continue its growth in other regions - areas where WhatsApp penetration is much stronger.
The Future
Facebook clearly believes that mobile social apps like WhatsApp, Snapchat and Viber is where the market is moving and the purchase of WhatsApp is an indication that it doesn't want to be left behind in this space.
Will the $19 billion price tag prove a bargain, or will this be a calamitous mistake by Mark Zuckerberg and his team?
Only time will tell.