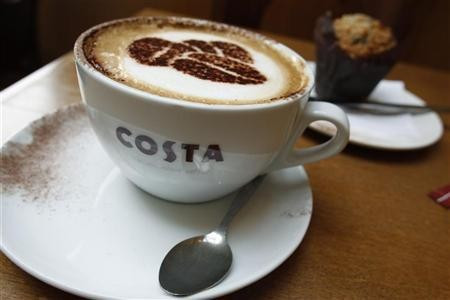 Whitbread, Britain's largest hotel and restaurant group, reported a like-for-like sales rise of 3.3 percent in the 13 weeks to 29 November, boosted by a strident performance from its Costa Coffee brand as it benefits from a tax avoidance furore engulfing rival Starbucks.
Whitbread, which also counts Premier Inn and the Beefeater pub chain among its brands, said Costa Coffee like-for-like sales were up 7.1 percent as it prepares to open 330 new stores across the world.
The company's shares were up by 3 percent on the London Stock Exchange in early trading.
"The economic environment remains challenging with no change in our background consumer market," said Andy Harrison, Andy Harrison, chief executive of Whitbread. "We are on track to deliver full year results in line with expectations."
Premier Inn's like-for-like sales were up by 2.5 percent while restaurants saw an increase of 1.9 percent, reported Whitbread, which employs 40,000 people globally.
Whitbread shares jumped more than 3 percent in London trading to 2,502 pence each taking the full-year gain past 60 percent.
Starbucks has agreed to pay £20m ($32.1m, €25m) in corporation tax over the next two years after it caved in to intense public and political pressure.
It is more than double the £8m it handed the Treasury over the past 13 years.
Campaigners had called for a boycott of Starbucks stores in protest over perceived tax avoidance, which could have helped Costa's sales.
Starbucks had insisted it was not profitable in most of its time trading in the UK, which is why it did not pay tax, though MPs accuse the company of exporting its profits in an accounting trick.
Whitbread plans to double the size of Costa's sales to £1.3bn under its five year growth plan.
---
Follow @shanecroucher