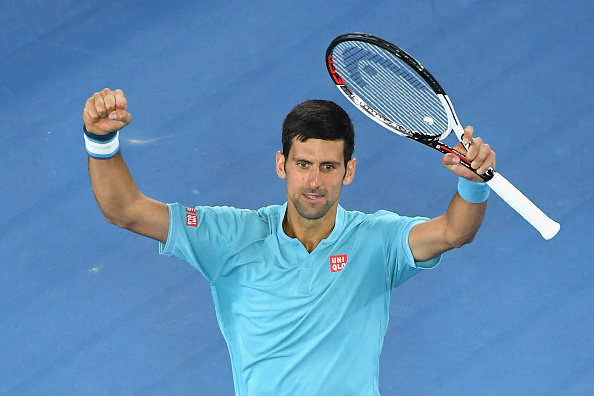 Novak Djokovic is regarded as one of the best tennis players ever to grace the sport and is one of the most admired athletes on the planet. The gluten-free dynamo has won 12 Grand Slam titles during his career and more than holds his own in arguably the strongest era in the history of men's tennis.
Who is Novak Djokovic?
Born in Belgrade on 22 May 1987, Djokovic considers himself Serbian though his parents, Srdan and Dijana, are of Montenegrin and Croatian descent. He may have considered his nationality to be different to that of his parents but he did share the same ambitions as his brothers: his younger siblings, Marko and Djordje, are also keen tennis players who aspire to play professionally.
Key facts about Novak Djokovic
Date of birth: 22 May, 1987
Home town: Belgrade, Serbia
Nationality: Serbian
Net worth: $108m
Height: 6'1
Weight: 187lbs
Family: Married Jelena Djokovic in 2014. One son named Stefan.
Twitter: @DjokerNole
Instagram: DjokerNole
Facebook: Novak Djokovic
Djokovic started playing tennis aged four and was spotted by Yugoslavia's Jelena Gencic when he was just six. Gencic was taken aback by the infant's talent and worked with him for six years before he moved abroad in order to further his chances of making it as a professional.
He moved to the Pilic academy in Germany in 1999 and reached the final of the Junior Davis Cup with Yugoslavia at the age of 14. He turned professional four years later and made his first Grand Slam appearance at the Australian Open in 2005, losing to eventual winner Marat Safin in the first round.
Djokovic gradually made his way up the ATP rankings and cracked the top 10 in 2007. A year later he would taste major success, beating Frenchman Jo Wilfried-Tsonga in the Australian Open final and winning a bronze medal at the Beijing Olympics. Since that breakthrough year, the Serb has gone from strength to strength.
Career highlights
Won 12 major Grand Slams and 67 career titles.
Secured the record for highest number of ranking points as world number one (16,950)
Has reached 13 hard court finals alongside Roger Federer.
Won first Grand Slam (Australian Open) in 2008. The Serbian has now won the tournament down under six times.
Has won three Wimbledon titles, the most recent coming in 2015.
Has also won two US Opens and one French Open. Became the first man to hold all four majors at once in 2016.
What is Novak Djokovic's net worth?
Djokovic has earned $108m (£88m) during his career so far. That's more than the likes of Roger Federer and Rafael Nadal, who have garnered $101m and $80.1m respectively. Sponsorship deals and advertisements boost the 29-year-old's net worth to around $140m.
Who is Novak Djokovic's wife?
Djokovic married wife Jelena Ristic in the summer of 2014 and the couple have one son, Stefan. Jelena is the director of her husband's foundation and studied Luxury Management and Services at the International University of Monaco.
She also has a Business Administration degree from Bocconi University and also did some modelling work in 2013.
What does Novak Djokovic eat?
The talented Serbian does not eat anything that contains gluten after it was found to be the cause of his mid-match collapses earlier in his career. Doctor Igor Cetojevic recognised the problem and helped Djokovic find a solution to his nutritional woes.
He now follows a diet based largely on vegetables, beans, white meat, fish, fruit, nuts, seeds, chickpeas and lentils.