Just four years on from his UFC debut, ConorMcGregor stands as the transcendent star of MMA. According to his long-time coach John Kavanagh, he almost missed that first fight because he stopped to pick up his unemployment cheque on his way to the airport. Now the UFC's first-ever double champion, the 28-year-old has his eye on further domination. Here is all you will ever need to know about 'The Notorious'.
Key facts about Conor McGregor
Full name: Conor Anthony McGregor
Date of birth: 14 July 1989
Birthplace: Crumlin, Dublin, Ireland
Net worth: $22m
Height: 5'9 (175cm)
Weight: 155lbs
Reach: 74.0" (188cm)
Nickname: The Notorious
Record: 24 fights, 21 wins, 3 losses
Trainers: John Kavanagh, Owen Roddy, Johnny Dargan, Ido Portal
Twitter: @TheNotoriousMMA
Instagram: @thenotoriousmma
Facebook: Conor McGregor
Who is Conor McGregor?
McGregor's name is now synonymous with UFC. In 2008, he first showed up at the gym owned by John Kavanagh – Ireland's first ever black belt in Brazilian Jiu-Jitsu – and began his journey on Ireland's local MMA scene. A submission defeat in just his third fight almost halted his career before it had even started, with McGregor's mother reaching out to Kavanagh to bring her son back around after he considered giving up the fight game.
Sticking with it turned out to be the right move. After racking up a record of 12 wins and two losses fighting across Ireland and the UK – 11 of those wins of those wins coming via knockout and nine coming inside the first round – he was given his UFC debut in April 2013 at the Fuel TV 9 undercard in Stockholm.
McGregor had to scrape together in order to get himself out there, as Kavanagh would later recall in his autobiography Win or Learn. But he left Sweden with a cool $60,000, finishing off Marcus Brimage in one minute and eight seconds with the style, bravado and attitude he has always been associated with.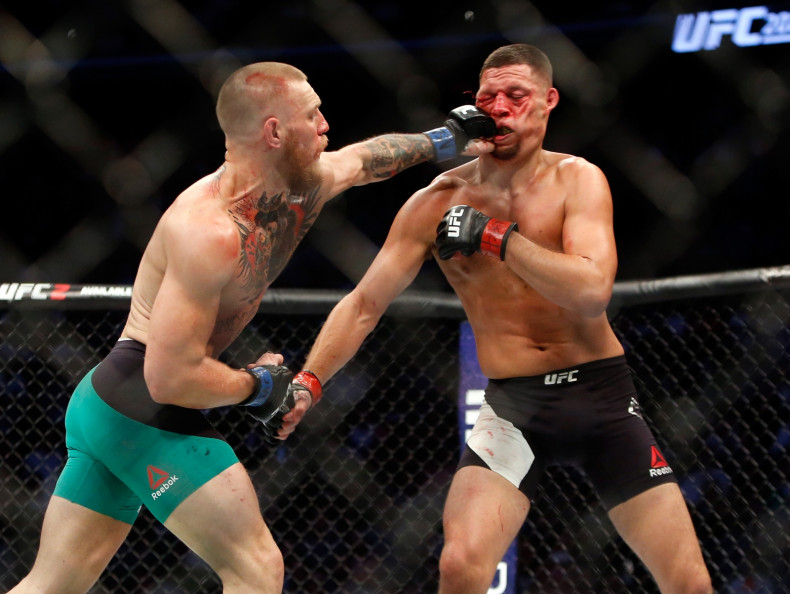 Outside of the octagon, McGregor is hated, adored, but never ignored. The Bentleys, the Gucci mink coats, the stream of expletives, the press conference brawls and the social media hype are all part of the package.
McGregor is currently on a break away from UFC ahead of the birth of his first child with long-term partner Dee Devlin. But fuelling talk of a cross-sport showdown with Floyd Mayweather has also been a priority. McGregor says he is ready to take on the undefeated five-weight world champion in the boxing ring, while Mayweather says McGregor is the only fight he'd step out of retirement for. Watch this space.
Conor McGregor's career highlights
McGregor won his first title in UFC when he knocked out Jose Aldo after just 13 seconds at UFC 194 in December – the fastest ever finish to a UFC title match.
After winning featherweight gold, McGregor aimed to become a two-weight world champion at UFC 196 when taking n Rafael dos Anjos for his lightweight title. Injury forced Anjos to back out of the fight however.
Nate Diaz stepped in to fight McGregor at UFC 196, fighting at welterweight. He inflicted McGregor's first UFC defeat, winning by submission in the second round in a result that shocked the UFC world.
McGregor vs Diaz 2 was eventually rescheduled for UFC 202 in August, with the two tearing the house down in a bloody battle. McGregor won via majority decision.
In November 2016, McGregor fought Eddie Alvarez for the lightweight title at UFC 205, the first card to be held in New York after MMA was made legal in the Big Apple. McGregor became the promotion's first ever double champion that night, knocking Alavrez out with a four-punch combo in the second round.
His reign as a double champion was ended weeks later when UFC announced McGregor had vacated his featherweight title. He remains lightweight champion.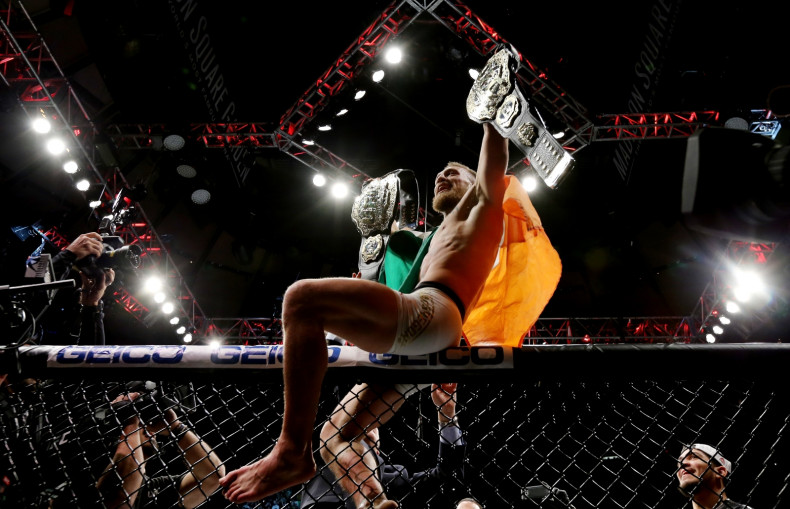 What is Conor McGregor's net worth?
According to The Richest, McGregor's net worth is close to $22m after a record breaking year for the fighter. In 2016 he became the first MMA fighter to appear on Forbes' top 100 earners in sport, coming in at no. 85.
What sponsorship deals does he have?
McGregor's net worth is bolstered by $4m in sponsorship deals, with Reebok, Bud Light, Monster Energy, Volvo and Dethrone Royalty Brand all carrying his name.
When will Conor McGregor next fight?
McGregor is currently taking a break from UFC until the birth of his first child. He says his partner Dee Devlin is due in May. UFC president Dana White said in January the Irishman had told him planned to take 10 months out.
What is his nickname?
McGregor goes by 'The Notorious', something he filed to trademark at the start of the year. McGregor has also shown his love to his namesake, Notorious B.I.G, wearing the Coogi sweatshirt championed by the hip hop legend when in New York for his Alvarez fight.
Why did he retire?
McGregor tweeted from his official account in May 2016 he had "decided to retire young." Days later, he released a statement airing his frustrations over media and commercial obligations in an emotional Facebook post before insisting he had not walked away from UFC.
Why was Conor McGregor's title taken away?
McGregor won his featherweight title from Jose Aldo late in 2015 but did not defend the belt once in 2016, with his rivalry with Nate Diaz taking precedence. McGregor was forced to vacate the belt with Dane White explaining other UFC fighters were unhappy with the "logjam" in the featherweight ranks as a result of McGregor's division swapping.
Are Conor McGregor and Floyd Mayweather going to fight?
McGregor insists the next time he fights will be against the five-weight world champion. Mayweather retired from the boxing ring in September 2015 but insists a showdown with McGregor is the only fight that could tempt him back into the ring.
Who has he lost to?
McGregor has lost three times in his MMA career. He lost twice fighting in local events in Ireland to Artemij Sitenkov in 2008 at Cage of Truth 3 and to Joseph Duffy at Cage Warriors Fighting Championship in 2010. McGregor's only defeat in UFC coming to Nate Diaz at UFC 196.