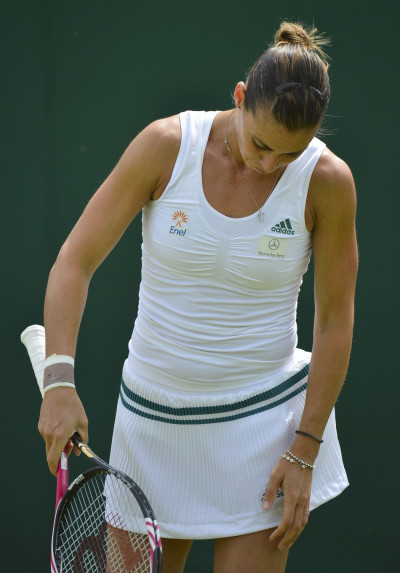 There is always something spiritually spectacular about Wimbledon. Indeed, much as a cricket test at Lord's is as if the game were coming home, the sight of trim gentlemen and ladies, dressed in spotless white, chasing down service returns and impossible forehand winners against the backdrop of the precise and charming green of the courts at SW 19, awakens something emotionally dormant in every tennis fan's heart. It is tennis coming home.
The 126th Wimbledon Championships is already off to an exciting start with the stars of the men's field - Novak Djokovic and Roger Federer - sailing through their first rounds even as former champion Venus Williams crashed out of the ladies' singles tournament with her worst defeat since 1997.
The extravaganza that is Wimbledon, however, is not only about tennis... at least, not for the spectators. Right or wrong, it is also about glamour, style and the fact that the ladies' draw features some undeniably pretty women!
We deny not their absolute professionalism, commitment to the sport or their burning desire to win but would also like to point they would not look out of place on the ramp of any fashion show anywhere in the world. The names roll of the tongue, in itself testament to the importance that style, glamour and looks have assumed in the world of women's professional tennis - Maria Sharapova, Flavia Pennetta, Anglelique Kerber, Tatiana Golovin, Maria Kirilenko!
It all began, however, with a certain Russian professional by name Anna Kournikova and although it has been five years since she retired, the impact the now 31 year old former pro took the tennis world by storm, when she burst on the scene in 1995. Her stunning blonde look and supermodel-like figure were instantly pounced upon by the media and a whole host of endorsement deals sealed her publicity. She was even cast, in 2000, in a Hollywood film - Me, Myself and Irene, starring Jim Carrey and Renee Zellweger. She has also been featured in Sports Illustrated's Swimsuit Issue (2004) and other publications like FHM and Maxim - more of a model's career than a tennis professionals.
Since Kournikova, a veritable production line of beautiful Russian women took over women's tennis and since then, beauty on the courts is no longer something that is ignored, either because it appears incongruous with idea of hard work and success or it means the professional in question is any less... well, professional.
So, to enter into the spirit of the whole thing, IBTimes UK presents the ten sexiest women tennis professionals at the 2012 Wimbledon Championships.
Click to start this Slideshow.