WWE: Backstage news on Goldberg's current deal and if he is making an immediate return
Goldberg's last fight was with Brock Lesnar at WrestleMania 33.
Is Goldberg going to make an immediate WWE return? It is highly unlikely the former WWE and WCW champion will make a quick comeback to the squared circle in the upcoming months.
There is uncertainty over Goldberg stepping into the ring, as the entertainment company is in no rush to sign a new fight contract with the former WWE star, the Wrestling Observer Newsletter reported.
The report also pointed out that other rival promotions cannot pay as much as the WWE did for Goldberg when he made his return after a 12-and-a-half-year hiatus with a fight against Brock Lesnar at the 2016 Survivor Series. Goldberg won the fight under 90 seconds.
He, however, has a deal that allows the company to sell his merchandise.
Speaking about Goldberg's recent return, the report says that his comeback fight leading to WrestleMania 33 was made possible by the Beast Incarnate. Goldberg returned as he had full trust in the WWE's creative direction and Lesnar.
Lesnar made Goldberg look good in the ring in the fight and also in the Monday Night Raw appearances as the latter was to lose the big fight at the Grandest Stage Of Them All.
Goldberg could make another comeback for the money and the thrill of being inside the ring with another top wrestler. But his return hinges on how his mindset is after revealing that his second run with the company was "miserable".
"I'll be honest, I'm miserable. I'm absolutely miserable," Goldberg said in a podcast as transcribed by YahooSports. "Nobody get me wrong when I say I've been miserable throughout this, but I am. I'm miserable. I'm bloated 24 hours a day. I'm stressed 24 hours a day. I don't sleep, but it's a small price to pay."
"I am nothing but a machine now. I get up in the morning. I eat. I train. I eat. It's the toughest thing I ever embarked upon, guys," he said, "I'm 13 years removed from the business. I can't name a power wrestler who has come back 13 freaking years afterwards. And then, within 20 pounds of what he was back then."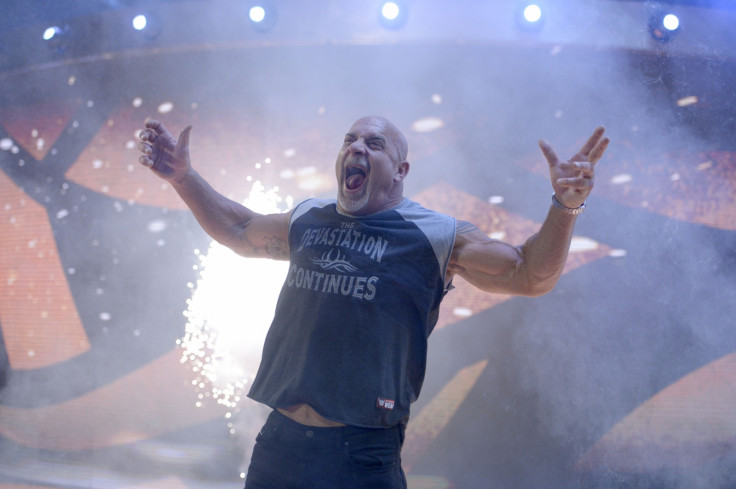 © Copyright IBTimes 2023. All rights reserved.