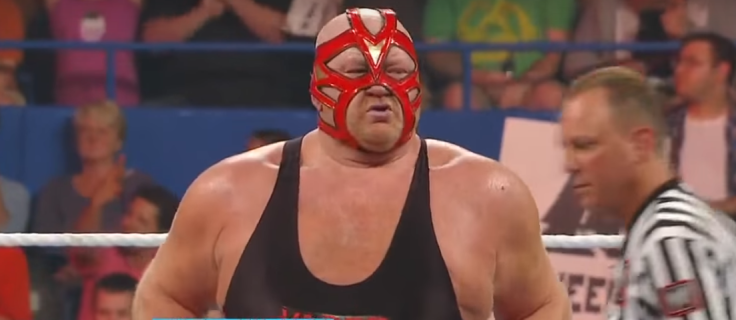 WWE legend Big Van Vader (real name Leon Allen White) said that doctors have given him less than two years to live as he suffers from a chronic progressive condition called congestive heart failure. In a tweet, the 61-year-old said that doctors claimed that the condition is because of his years in football and wrestling.
"Told by 2 heart Drs that my heart is wore out. I have been given less than two yrs to live I am only now allowing this as part of my reality [sic]," the semi-retired wrestler, who back in the day was known for his red mask and big size, wrote on Twitter.
He followed it up with another post that read: "Told by 2.heart Drs at this time that my heart is wore out from football & wrestling I have 2 yrs to live, [congestive heart] failure reality."
As soon as Vader revealed the tragic news, fans and followers reached out to support him.
"Prayers for @itsvadertime . I'm so sorry Leon. You are one of the greatest worldwide wrestling stars of all time," WWE's Mick Foley wrote on Twitter.
"@itsvadertime Vader I hope that's not true and you live many more years. You're immortal in pro wrestling and in our hearts #WWE #WWF #WCW," another fan of the wrestler wrote.
In a third tweet one fan shared: "@itsvadertime Be the Mastodon and prove the Doctor's wrong man! You're the first person I was scared of as a kid and I'm not done fearing u!"
Big Van Vader made his pro-wrestling debut at the American Wrestling Association as Baby Bull in 1985 after he his career at NFL's Los Angeles Rams was cut short due to injuries.
Vader's first major win in the ring came against Sting. He defeated Sting to become the WCW World Heavyweight Championship in July 1992 at the Great American Bash. He had joined World Championship Wrestling (WCW) in 1990. He later moved to the World Wrestling Federation, now known as WWE.
In his 31-year wrestling career, Vader has squared off with the likes of Mick Foley, Ric Flair, Hulk Hogan, Davey Boy Smith, Stan "The Lariat" Hansen, Shawn Michaels among others.