World Wrestling Entertainment (WWE) wrestler Brock Lesnar has failed an out-of-competition doping test ahead of his UFC 200 return. Lesnar was reportedly tested five times by Ultimate Fighting Competition (UFC) anti-doping partner USADA, with the stable confirming that he (Lesnar) failed the test conducted on 28 June, 11 days prior to his fight against Mark Hunt that took place at the T-Mobile Arena in Las Vegas.
The 39-year-old, who was returning to the Octagon ring for the first time in five years, made a successful comeback to beat the Samoan Hunt, winning by an unanimous 29-27, 29-27, 29-27 decision. Post the fight, Lesnar reaffirmed his plans to return to the wrestling ring at WWE's SummerSlam event and he would decide if he wanted to continue fighting in the UFC.
The American fighter has dismissed the criticism, saying he does not take it personally if anyone believes he has or is abusing PED's.
"I've been dealing with that my entire life. I'm a white boy and I'm jacked. Deal with it. What do you want me to say? I'm a white boy and I'm jacked, deal with it", said Lesnar as quoted by MMA Junkie.
However, Mark Hunt, his opponent on that night, has come out and demanded half of Lesnar's winnings from the fight, claiming that he is frustrated that he fought someone who may have had an illegal advantage.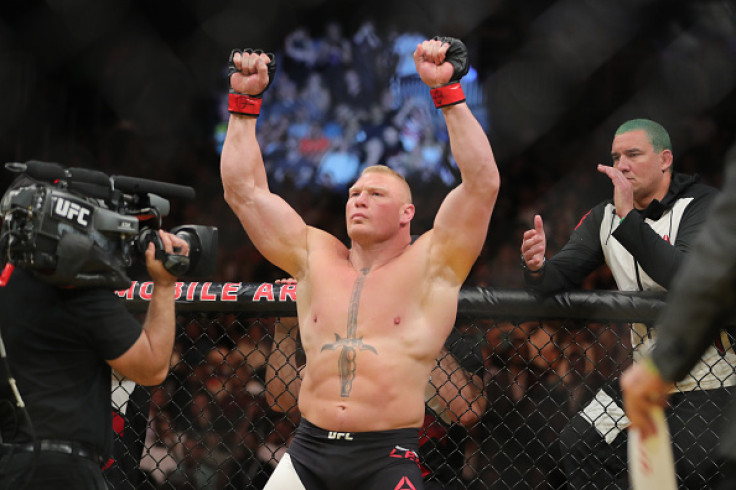 "I saw Brock made millions for this fight, more than anyone ever. I want to know what they are going to do to Brock now. When you don't make weight they give 20 per cent of your purse to the other fighter. If you get caught cheating you should lose all of it", said Hunt to Stuff New Zealand.
"I've told Dana I want half of Brock's purse. This is the third time I've had to fight a cheater in my career. The other two times I didn't ask for compensation, but this is the third time and I'm sick of them getting away with cheating", he added further.