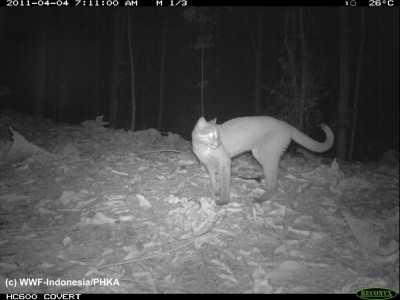 Rare photos of five species of wild cats, including the endangered Sumatran tiger, have been captured on camera in an Indonesian forest threatened by deforestation.
The WWF used hidden cameras to capture the Sumatran tiger, clouded leopard, marble cat, golden cat and leopard near the Bukit Tigapuluh forest in central Sumatra island.
The forest where these wild cats were photographed has been devastated by rampant deforestation for palm oils and paper plantations. Overall, the WWF camera traps recorded 404 photos, including 226 of the endangered Sumatran tiger over the course of three months.
WWF estimates that there are only 400 Sumatran tigers left in the wild.
"Four of these species are protected by Indonesian government regulations and are listed as threatened by extinction on the (International Union for Conservation of Nature) Red List," coordinator of the WWF-Indonesia tiger research team Karmila Parakkasi said in a statement.
"These amazing cat photos also remind us of how much we could lose as more of these fragile forests are lost to logging, plantations and illegal encroachment."
More than 250 other mammal and bird species and 700 plants live in the protected Bukit Tigapuluh National Park, according to the WWF.
"Unfortunately much of the natural forest area in the landscape is threatened by large scale clearance for industrial logging, pulp and paper, as well as illegal encroachment for palm oil plantation development," said Aditya Bayunanda, WWF-Indonesia's Coordinator for the Global Forest Trade Network Programme.
In the last 70 years, Indonesia has lost both the Bali tiger and the Java tiger.