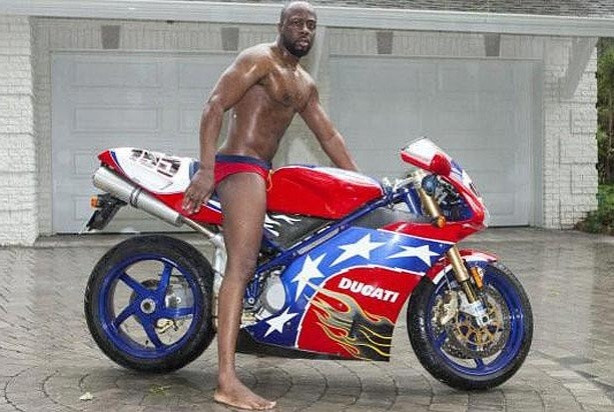 While many struggle to embrace getting older, Wyclef Jean has chosen to mark his birthday in a very brazen way.
The hip hop star celebrated turning 43 this week by sharing a semi-nude image of himself with his 3 million followers on Twitter.
The former Fugees frontman posted a snap of himself straddling his Ducati motorbike wearing just his briefs.
Covered in baby oil, the toned singer showed off his impressive physique and made sure to coordinate his outfit with his red, white and blue bike.
He accompanied the skimpy photo with the caption "TODAY I AM 43 YEARS OLD! I look And feel 26! U cant keep ‡ good Man down! Keep ‡ smile when they want you to frown!"
The raunchy shot was an instant hit and it wasn't long before Jean was being hailed as the 'Haitian sensation' on the social network.
But while many female fans flocked online to shower the star with compliments, others were left confused by the strip tease.
One happy fan said: @wyclef they can say what they want... But at 43 you look damn good on that bike!!!"
Another wrote: "That photograph is hilarious. I dare say he may be regretting it already."