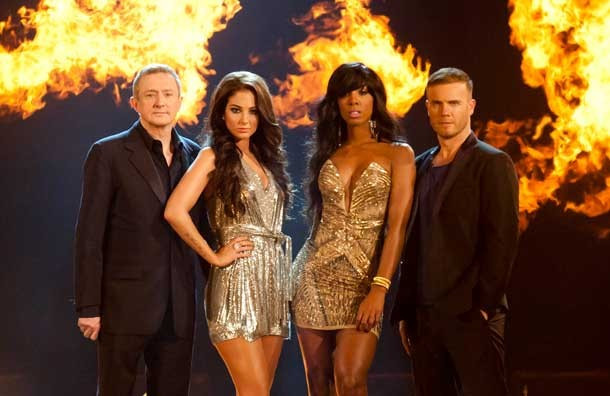 The UK's most successful TV show, "The X-Factor," is in crisis, having lost 2 million viewers in the early stages of this year's talent contest.
The show's creator and executive producer Simon Cowell, filming in Los Angeles for the U.S. "X-Factor" debut, rang the UK studios telling produces to: "Sort it out."
The show this year has been riddled with infighting judges and poor acts, which fans are fed up with.
Cowell, who left the show to focus on the U.S. version, told his successor Gary Barlow to crack the whip on the other judges and to "raise his game," in response to the figures.
An insider said: "Simon is furious. This would never have happened on his watch, and he wants the team to know this and sort it out.
"He knows there is great talent on the show, but he thinks the attention to detail has been shocking. The acts are not being showcased at their best.
"Say what you like about Simon, but he spends ages dithering over the tiny details to make sure everything is perfect. There's no way he would have sanctioned some of those song outfits or choices."
Another new judge, Destiny's Child's Kelly Rowland, has also come under fire and has been accused of causing unrest and bossing around fellow judges Tulisa Contostavlos and Louis Walsh's by telling them to ditch their ideas.
As if things couldn't get worse, the "X-Factor" not only lost 2 million viewers but the programme has also lost considerable income from the fewer phone votes, and will put into question whether the show can survive in the months and years to come without its founding father Cowell.
One fan said: "There are so many talent shows on TV at the moment. 'X-Factor' is still the favourite, but everything has its shelf life."