Xstrata Shares Rise As Board Recommends Glencore Takeover Bid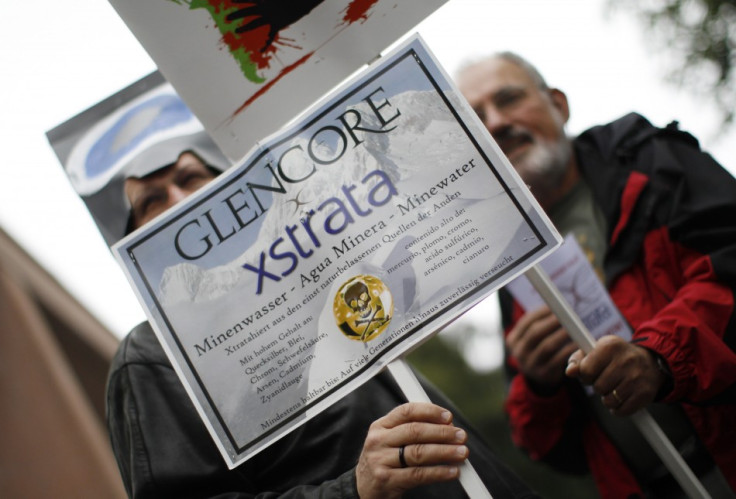 Xstrata shares traded higher in London after the board of the global mining group recommended a sweetened takeover bid from commodities dealer Glencore after weeks of negotiations over senior management job safety.
Glencore upped its bid for Xstrata to $33bn on 7 September, only minutes before Xstrata shareholders we due to vote on the controversial merger with the commodities dealer, on condition that Glencore CEO Ivan Glasenberg become the new boss of the merged company, a position previously set up for Xstrata CEO Mick Davis.
Monday's decision allows for shareholders to vote on the new proposal, which would be the second-largest mining merger in history, and also protect certain key managers within the Xstrata group and ensures one of its executives will sit on the combined board of the merged entity.
"This view was reaffirmed by major shareholders, in particular in the light of the change of CEO and remains the rationale for retention arrangements," Xstrata Chairman John Bond said in a statement Monday. "Nonetheless, some other shareholders remain opposed either to the principle of retention payments or to the originally proposed inter-conditional nature of the Merger resolutions."
Shareholders will vote on Glencore's new bid of 3.05 Glencore for every Xstrata shares. Qatar Holdings, which is controlled by the country's royal family, has said previously it would like to see the bid improved to 3.25 Glencore shares.
The revised Glencore bid came only hours its own shareholder meeting descended into chaos as Chairman Simon Murray was forced to adjourn it minutes before shareholders were due to vote on the bid for Xstrata. Glencore executives have been attempting for months to convince Xstrata's largest shareholders - Qatar Holding and Knight Vinke Asset Management - to accept Glencore's offer of 2.8 shares for each Xstrata share, a deal which would value the combined group at $34bn.
However, both investors, who own around 12.5 percent of Xstrata, have been pushing for a larger ratio of Glencore shares in order to accept a merger or a takeover, according to several media reports, and have said they would vote against the deal if it wasn't improved.
Glencore needs both investors to support the deal because it can't vote its own 34 percent holding in Xstrata under the terms of the original approach it made back on 2 February. As a result, only 16.5 percent of shareholders would need to vote against any deal in order for it to be blocked.
Xstrata shares rose around 1.6 percent in London trading, changing hands at 972 pence per share. Glencore shares fell around 1 percent to 338.85 pence.
© Copyright IBTimes 2023. All rights reserved.