Zoella has temporarily quit the internet alongside her boyfriend Alfie Deyes.
The YouTuber, who has more than six million followers, is taking a break from her online world "for a few days" because she says it is "clouding up" her brain.
Deyes, who runs PointlessBlogTV, which is often filmed at their house, has claimed he is taking a break from the internet as they plan to "spend more time together".
The YouTube couple's dramatic retreat from the internet comes the same week that it has been claimed that she did not in fact write her debut novel, Girl Online.
Viewers of her blog as well as critics on Guru Gossip suggested that Sugg used a ghost writer to compose her novel; they were sceptical about the short time frame in which the project was completed.
In the book's opening, Sugg acknowledges a woman named "Siobhan Curham", but gives no details of her role in producing the novel.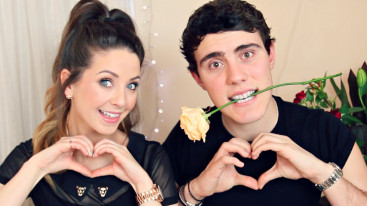 "I want to thank everyone at Penguin for helping me put together my first novel, especially Amy Alward [editor] and Siobhan Curham, who were with me every step of the way."
According to the Mail Online, It was when fans found a post on Curham's blog revealing that a publisher recently asked her to write an 80,000 novel in six weeks that they confronted the blogger on social media.
Sugg then admitted she had "help" from her publisher in writing her debut novel, Girl Online.
A Penguin spokeswoman said that "to be factually accurate you would need to say Zoe Sugg did not write the book Girl Online on her own."
It also said it was part of a publisher's role to "help" new talent and to find the very best talent and help them tell their story and connect them with readers.
"Talented YouTube entrepreneurs such as Zoe are brilliant at understanding and entertaining their audience," said Penguin.
The 24-year-old is better known for uploading videos to YouTube about hair and beauty than writing, however her debut book sold a record breaking 78,00 copies in its first week.
Critics point out that while she did not hide the fact that she had help, she also never stated that the bulk of the writing, if not all was carried out by someone else.
Many of Zoella's fans sent positive messages to the YouTube star after her announcement, saying that they still "loved" the book.
However, others have unsubscribed from her channel and accused her of being dishonest, misleading and blocking comments on her videos over the "tiniest" form of criticism.