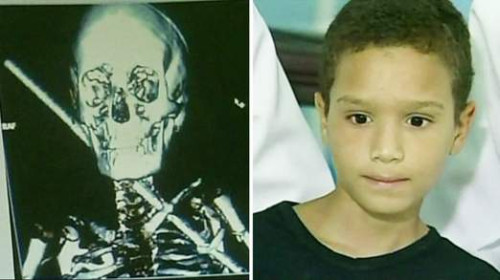 A 10-year-old Brazilian boy called Weverton Silva has survived being impaled by a metal spike which entered his armpit and emerged near his ear, just missing his heart and artery.
Silva was climbing in a guava tree in the state of Rio de Janeiro when the branch he was on snapped and he fell on to a wall below, from which the bar protruded. Removing the bar in one piece took five hours and Silva was sent home, where he is believed to be recovering well.
The hospital where Silva was treated released an X-ray taken when the spike was still clearly visible. Dr Rodrigo Chicralla said it was a miracle he survived:
"It had passed through basic arterial routes, and to have something like this happen, it is difficult to arrive at a hospital with such a situation. I think it was just God."
In 2013, Essex schoolboy Josh Hassan survived being impaled by a railing that missed his heart by inches. The 12-year-old had been leaning over a fence to retrieve a ball. His mother Dawn rushed to the scene and helped keep him supported until firefighters arrived and cut him free.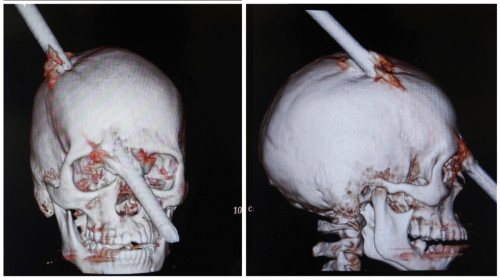 Back in Brazil, 24-year-old construction worker Eduardo Leite survived when a 2m metal bar smashed through his skull and emerged through his forehead. In China, 13-year-old Ren Hanzhi was peeling an apple when he tripped and the knife drove straight into his cheek – luckily just missing his brain.
Also in China, Zhang Xuecheng was on his way home when another man threw some fire tongs at a stray dog. The man missed and the tongs penetrated the back of his skull, protruding out of the front. Incredibly Xuecheng also survived.