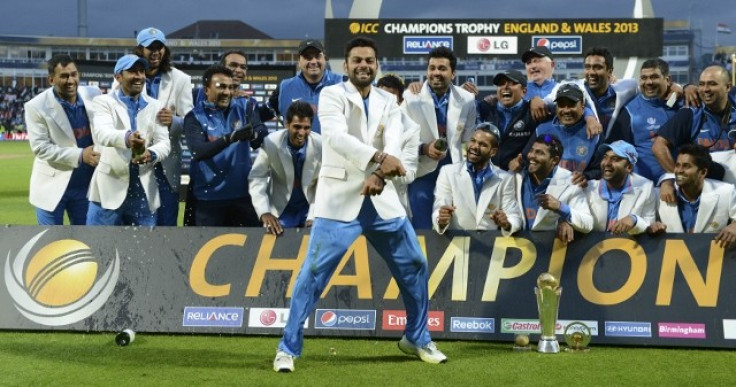 The eighth edition of the ICC Champions Trophy is will take place between 1 and 18 June in England and Wales.
India are the defending champions after they clinched the trophy following their victory over England in the final four years ago. Eight top-ranked teams as on September 2015 have made it to the tournament, which means Bangladesh have pipped West Indies for the final spot. The eight teams that are participating in the Champions Trophy are:
England
Australia
India
South Africa
Pakistan
Sri Lanka
New Zealand
Bangladesh
These eight teams are divided into two groups, Group A and Group B. Each group will have four teams each. The two groups are given below.
Group A
Australia
Bangladesh
England
New Zealand
Group B
India
South Africa
Pakistan
Sri Lanka
Where to watch live
Sky Sports provides live coverage of the Champions Trophy in the United Kingdom. Sky Go App will provide action on iPhone, iPad and selected Android devices. Skysports.com will also provide updates of the Champions Trophy.
Schedule:
Match 1: England v Bangladesh, Group A
Date and Time: 1 June, 10:30am BST
Venue: Kennington Oval, London
Match 2: Australia v New Zealand, Group A
Date and Time: 2 June, 10:30am BST
Venue: Edgbaston, Birmingham
Match 3: Sri Lanka v South Africa, Group B
Date and Time: 3 June, 10:30am BST
Venue: Kennington Oval, London
Match 4: India v Pakistan, Group B
Date and Time: 4 June, 10:30am BST
Venue: Edgbaston, Birmingham
Match 5: Australia v Bangladesh, Group A
Date and Time: 5 June, 1:30pm BST
Venue: Kennington Oval, London
Match 6: England v New Zealand, Group A
Date and Time: 6 June, 10:30am BST
Venue: Sophia Gardens, Cardiff
Match 7: Pakistan v South Africa, Group B
Date and Time: 7 June, 1:30pm BST
Venue: Edgbaston, Birmingham
Match 8: India v Sri Lanka, Group B
Date and Time: 8 June, 10:30am BST
Venue: Kennington Oval, London
Match 9: New Zealand v Bangladesh, Group A
Date and Time: 9 June, 10:30am BST
Venue: Sophia Gardens, Cardiff
Match 10: England v Australia, Group A
Date and Time: 10 June, 10:30am BST
Venue: Edgbaston, Birmingham
Match 11: India v South Africa, Group B
Date and Time: 11 June, 10:30am BST
Venue: Kennington Oval, London
Match 12: Sri Lanka v Pakistan, Group B
Date and Time: 12 June, 10:30am BST
Venue: Sophia Gardens, Cardiff
Semi-final:
Match 13: Semi-final 1, TBD v TBD
Date and Time: 14 June, 10:30am BST
Venue: Sophia Gardens, Cardiff
Match 14: Semi-final 2, TBD v TBD
Date and Time: 15 June, 10:30am BST
Venue: Edgbaston, Birmingham
Final
Match 15: Final, TBD v TBD
Date and Time: 18 June, 10:30am BST
Venue: Kennington Oval, London