Police in the Philippines arrested 30 people on Wednesday (15 February) who are suspected of operating an illicit cybersex den specialising in "sextortion" schemes and online pornography that was posing as a legitimate web-based marketing business.
Law enforcement chief Guillermo Eleazar, of the Quezon City Police District (QCPD), said the raid on the premises came after information was provided by a confidential informant, who revealed the call centre office was actually a well-disguised front.
"Based on the information, we conducted a series of surveillance and undercover operations that confirmed the existence of the cybersex den," he said, according to the Manila Times.

"On 11 February 2017, our undercover agents applied as chat sales agents and they were hired for OJT (on-the-job training) from 12-15 February.
"[They] discovered its actual operation as a cybersex den by selling pornographic materials and 'sextortion'. We immediately applied for a search warrant."
During the sweeping raid, Quezon City police arrested 30 alleged chat operators, whose ages reportedly ranged from 18 to 32. Investigators also seized roughly 30 computers, modems, CCTV monitors, recorders, cameras and other equipment.
The team behind the scheme reportedly managed a series of pornography websites featuring images and photos of "models" who were available for explicit online cybersex. Local media reports said the websites required a subscription fee of £150 before use.
Eleazar said the chat operators were posting images of local men or women, with their identities and locations as being in the US or other countries around the world. "Usually, cybersex leads to sextortion which target males in all ages," he added.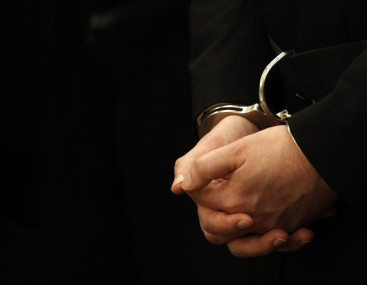 Now, the suspects are accused of violating the Cybercrime Prevention Act of 2012. Police said Allan Ren Fajardo Sulit, the owner of the suspected "front", called Kratos Online Marketing, was not found during the raid. Investigators are still searching for him.
Often referred to a "webcam blackmail", sextortion is when criminals assume fake identities to con victims into performing sex acts online.
Perpetrators then threaten to send images or videos of the act to the victim's family or friends unless they cough up cash.
Philippines-based news publication GMANewsOnline has reported the number of children engaged in cybersex has spiked in recent years, with a record high of 136 cases in 2015.
The country's National Police Anti Cybercrime Group (NPCG) claimed parents were found to be "pimping" their children out to foreigners, exchanging nude photos for money.
In the UK, law enforcement say victims are increasingly being targeted by criminal gangs from the Philippines, Ivory Coast and Morocco. The National Crime Agency (NCA), the British equivalent of the FBI, said more than 900 people fell victim to such schemes last year.