50 Cent is not impressed his 'Magic Stick' was exposed to the world in the latest episode of Power. The Candy Shop rapper is blaming series creator Courtney Kemp for allowing his penis to be shown in episode four of season three but the producer claims Fiddy gave his permission by signing an official waiver.
Viewers were given more than an eyeful of 50 Cent, real name Curtis Jackson, during a sex scene in episode Don't Worry Baby. Unfortunately for the rapper, his beloved aunt uncomfortably watched his character Kanan's encounter with Candie, played by Natalie Paul. 50 Cent told his Instagram followers after the episode aired: "My Auntie G money just called me and said man what the f**k did i just watch. She traumatized. She said she had to get up twice [sic]."
In a series of now-deleted posts, 50 Cent is alleged to have slammed Power creator Kemp before the episode was shown on Starz. The rapper reportedly wrote: "Man I just saw episode 4, of POWER Courtney I'm a kill you, this is not funny . I think I just saw my [penis] in a scene. What the f**k Courtney call my phone NOW!!!"
He added: "This s**t wasn't in the first three edits. All of a sudden wala..magic [stick]. Nah, y'all got me f****d up... So now my auntie G can't watch Power because my d**k is debuting tonight. SMH you m***********s. I wish somebody say some stupid s**t right now. I am Kanan m**********r. Try me."
Another angry message captured by Bossip reads: "The sex scene was hard enough man, it's not a regular sex scene. Courtney you of all people know this you wrote this s**t. Ok I calm down Courtney call my phone. B***h I CAN'T BELIEVE YOU DID THAT WITH OUT TELLING ME FIRST, WHAT THE F**K IS WRONG WITH YOU !!!! Ok ok wait a little while before you call me SMH."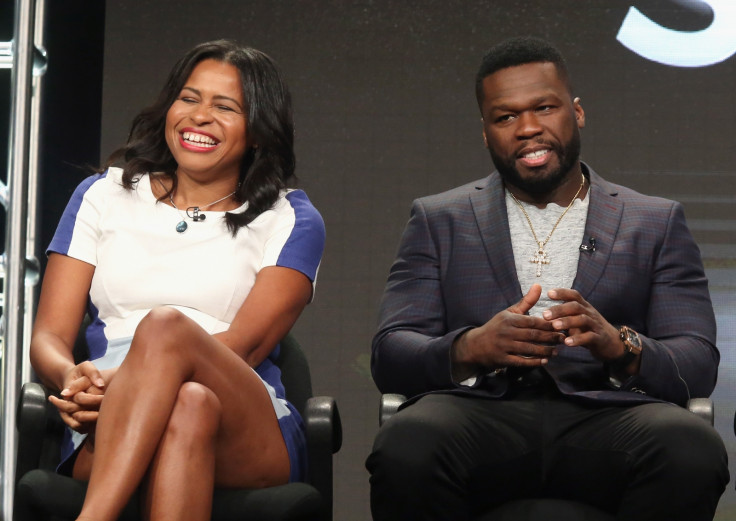 Kemp replied via Instagram with one image captioned: "Ghost must die and @50cent must lie because you knew what we were shooting during 404. Yeah that's your [penis] you signed the waiver like everybody else."
Although 50 Cent is an executive producer of the show, Kemp reminded the rapper who is boss by posting a screengrab of her own EP title with the caption: "I'll just leave that there.@50cent."
Power is known for its particularly racy sex scenes with actors Omari Hardwick, Lela Loren, Naturi Naughton and Joseph Sikora among the cast members to have stripped off for bedroom scenes over the last three seasons.
The series centres on a New York nightclub owner James 'Ghost' St. Patrick (Hardwick) who moonlights as a drug kingpin. In July, it was announced that Power had been renewed for seasons four and five.