Two videos of Ubisoft's forthcoming game, Assassin's Creed 4: Black Flag showing underwater scenes, caves and harpooning features.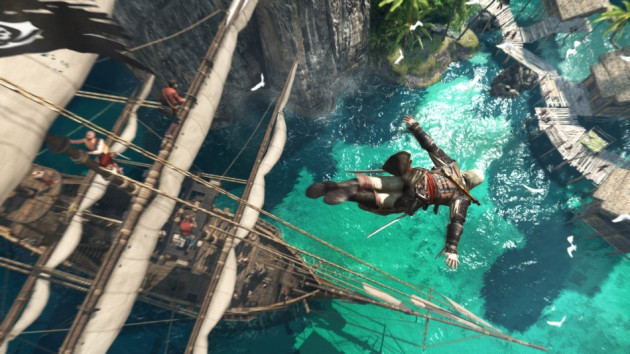 The first video from Revision 3 features Michael Hampton, senior game designer of Ubisoft Singapore Studio. Hampton describes the purpose of the underwater feature is to put Edward, the chief character, into a vulnerable situation where he is the prey.
Edward is exposed to threats such as sharks, sea urchins, sting rays and is completely unarmed. The game features an oxygen breath meter, shown when the player is underwater. This helps the gamer know how much time they have in hand to complete a task or explore sunken ships and treasures.
A number of air pockets and air barrels are provided for the player to refill his oxygen level and continue exploring.
Underwater exploration is considered important to upgrade the Jackdaw (the ship Edward sails) by seeking out different parts from the sunken ships along with other treasures.
Apart from underwater, the game also features caves. The caves are designed for in-game smugglers to keep their loots and treasures. Edward and his crew can use it as a source for their own loots by raiding such areas. A few caves, called Seanotes, have access to underwater locations.
Harpoon
In a second video from Eurogamer Sebastien Berton, lead game designer for AC4 at Ubisoft's Singapore studio speaks abou the harpooning feature in the game.
Berton describes Ubisoft's intentions of creating the "great white shark" more scary to give a revamped experience to gamers. The sharks are fast and can attack Edward, damaging his health and boat on which he hunts. One will need to take precise aim in order to kill the shark via harpoon.
Since the shark is always moving, one needs to wait for it to come closer to the player's boat for better aim. Apart from the shark, five other animals will be available for hunting in water.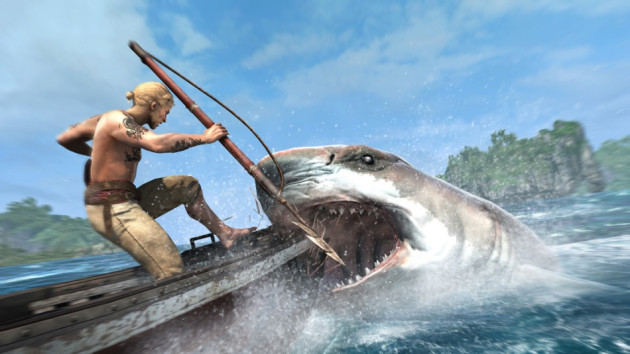 Berton explains that hunting will also result in acquiring certain goods, which help in crafting and upgrading the hunting weapons.
Price and Availability
Assassin's Creed 4: Black Flag will release on 1 November worldwide for Sony PlayStation 3 and 4, Microsoft Xbox 360 and One, Nintendo Wii U and Windows PC.
The game can be pre-ordered from Amazon UK Store at the following prices:
PlayStation 3 and Xbox 360: £40
PlayStation 4: £54.99
Xbox One: £55
Nintendo Wii U: £40.49
PC: £29.69