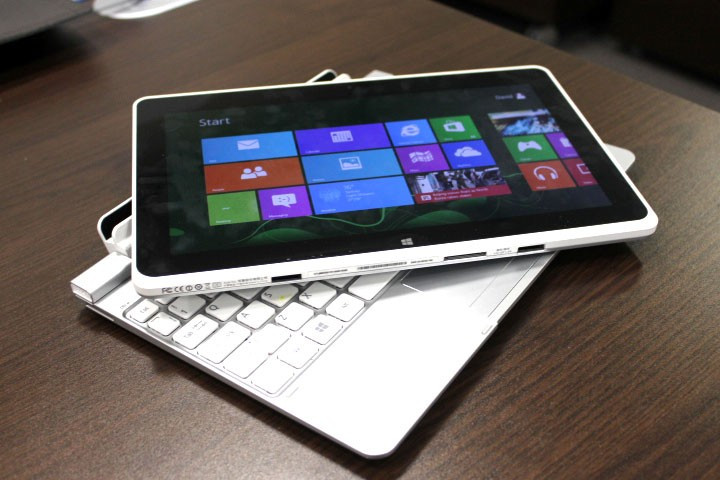 Key Features:
10.1in IPs screen, 1366 x 768
Intel Atom 1.8GHz Z2760
64GB storage, 2GB RAM
Windows 8
Price as Reviewed: £500
Acer Iconica W510
Windows 8 is not in a healthy state. It is six months since Microsoft launched the radical redesign of its operating system and according to IDC at least, its failure is partly to blame for the crisis gripping the PC industry at the moment.
One of the problems facing Microsoft and manufacturers like Acer is the definition of a PC is somewhat fluid at the moment with everything from the hulking black tower in the corner of your living room to the sleek Surface tablet being counted as a PC.
Manufacturers are struggling to identify what it is that people want from a PC in this "Post-PC era." We have desktop PCs, notebooks, netbooks, Ultrabooks, flip-screen laptops, dual-screen laptops and hybrid laptop/tablets.
The final category is the one the Acer Iconia W510 falls into and faces competition from pretty much all other major consumer PC manufacturers who have launched products of this type.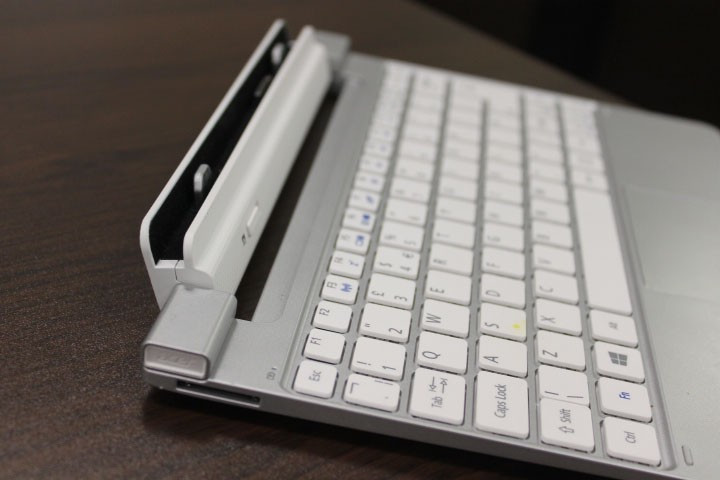 The W510 is smaller than a lot of the competition out there having a 10in rather than an 11.6in screen which makes it more compact but also limits the space available for the keyboard.
On the plus side however it is cheaper than a lot of its competition and runs a full version of Windows 8 meaning the majority of your old Windows applications will run on it.
Design
In terms of looks and design, the W510 is some way short of what I would call premium. Its combination of white and faux-aluminium plastic is not unattractive, it is simply that Acer seems to have put little thought or effort into the design of either the tablet or the keyboard dock it slides into.
It is hard to believe Acer recently produced the sublime and beautiful Acer S7 Ultrabook - though that will set you almost double what the W510 costs.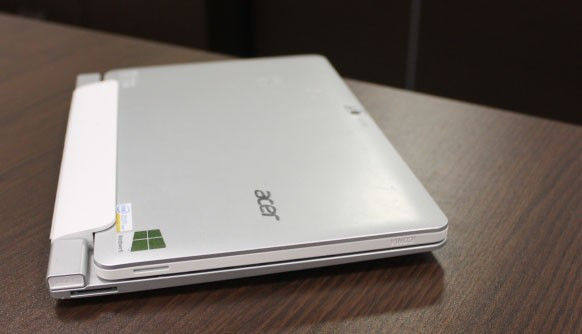 The 10.1in tablet is a perfunctory slab of glass and plastic and the clash between the bright white hinge and the silver rear makes it all the clearer that this is not a single device, but two separate products trying to be one.
The overall build quality is good, with no creaking or flex and the hinge, which can swivel 180 degrees to act like a stand, feels solid and I never felt as if it would break. Indeed it was a little too stiff if anything.
Screen
As with most tablets these days the screen on the W510 uses IPS technology, meaning good viewing angles, contrast and colour reproduction. The resolution of the panel is the typical 1366 x 768 which is standard for all such devices at the moment, as well as the vast majority of laptops, though becasue this is a slightly smaller display everything is that bit sharper.
What you get is a bright and punchy display with everything nice and sharp on the 10.1in screen, with very little backlight bleed. The panel, thanks to its Gorilla Glass covering, is very reflective and use outdoors in direct sunlight is not a good experience.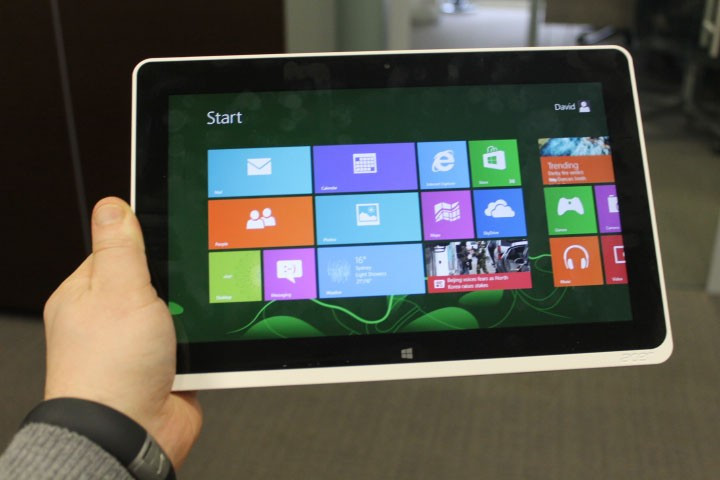 An issue I did have with the screen was in terms of response. On numerous occasions it took repeated jabs of my finger to activate a button, open an app or close a webpage - making for a very frustrating experience.
Keyboard and Touchpad
Getting the typing and touchpad experience right on products like this is essential. I have used some awful ones and some brilliant ones and unfortunately the Acer Iconia W510 falls into the former category.
The keys are small, poorly-spaced and spongey. Try using the right-hand shift key on a regular basis and you soon be smashing the keyboard with your fist in frustration - or maybe that is only me.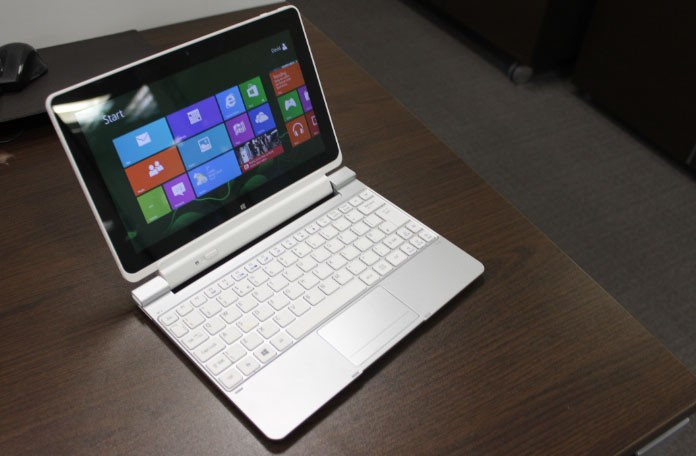 Whatever about the keyboard being poor, the touchpad is on a different level. It is small and unresponsive - that is until it decides to become the most responsive surface on the planet and makes it completely unusable.
All-in-all not a good experience.
Performance and Battery
The W510 is powered by one of Intel's low-power Atom processors which is backed up by 2GB of RAM. It is perfectly capable of handling what I image is over 90 percent of what those interested in a device like this want to use it for.
Multi-tasking, HD video streaming and web browsing is all handled without a problem. However try anything more intense like high-end gaming or video editing and you will struggle. The Atom chips are not designed to handle graphics that well and so most 3D games won't even run on the W510.
Of course the fact this runs a full version of Windows 8 means you can download and install a huge catalogue of legacy applications outside of the limited number available in the Windows Store.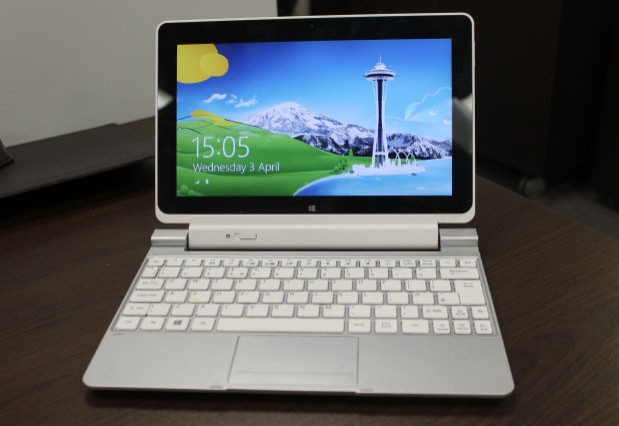 In terms of storage the W510 comes in 32GB and 64GB versions with storage expansion available up to an extra 64GB through the microSD card slot. This could come in handy as not a huge proportion of the 64GB of storage on my review sample was taken up with Windows 8.
In terms of battery life, the Acer W510 is excellent, giving us a total of over 16 hours when you combine the battery in the dock and the one in the tablet. This is the real benefit of a docking system like this to my mind, though over 8 hours from the tablet alone is still good.
In terms of connectivity as well as the microSD slot on the tablet you get microUSB and micro HDMI ports for connecting peripherals and outputting video. You also get a micro-to-full size USB adaptor in the box. There is also a proprietary charging port which is replicated on the dock.
The dock isn't as good as some others offering only a single full-sized USB port in addition to what the tablet offers.
Verdict
The Acer Iconia W510 is not a beautiful device. It is also not an ugly device but it does little to inspire joy. The tablet is perfunctory with a decent-if-slightly-unresponsive screen and while the dock does double your battery life the typing and touchpad experience is so poor you will end up not using it whenever possible.
You do get a full version of Windows 8 and at £500 the Iconia W510 is relatively good value, but the device's limitation mean spending that extra bit of money might be very worthwhile.
Scores
Screen: 7/10
Design: 7/10
Build Quality: 8/10
Performance: 8/10
Keyboard and Trackpad: 5/10
Overall: 7/10
The Good:
Great Battery life
Full version of Windows 8
Inexpensive
The Bad:
Terrible keyboard and trackpad
Uninspiring design
Unresponsive screen