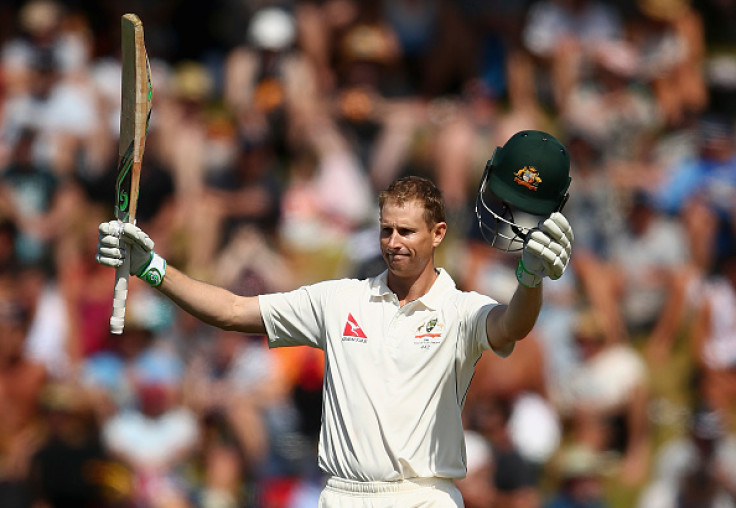 Australian cricketer Adam Voges has had a fairy-tale run in test cricket since his debut against West Indies in 2015 and he continued in the same vein against New Zealand breaking a number of records in the process. The right-hander has now scored 500 consecutive runs without being dismissed and averages more than 100 from 19 innings.
The Australian batsman, currently on 176 not out in the ongoing first test against New Zealand, scored his third hundred in consecutive innings following scores of 269 not out and 106 not out against the West Indies in December.
It was during this innings that he broke a number of records that seemed insurmountable, going past Sachin Tendulkar's 12-year-old record of consecutive runs scored. Tendulkar, posted scores of 241 not out, 60 not out, 194 not out, and 2 from January to April 2004.
The second record is what would excite many an Australian fan — by the end of the day his average had skyrocketed to 100.33, going past that of the legendary Sir Donald Bradman. The 36-year-old is now within touching distance of owning the highest average of any batsman in history at the 19-innings mark. If he finishes this innings with a score of 203 not out or higher, he will surpass Bradman's own 19-innings record of 102.56 set in 1931.
It has not always been so easy for Voges though. Selected for the one-day international squad in 2007, the batsman was discarded despite averaging a healthy 45.78 in 31 one-day internationals. Playing his last international in 2013, it was a full two years before the selectors decided to take a chance with the 35-year-old. Voges, who is now 36, has shown his worth, proving that age is just a number and that youth is no guarantee of success.