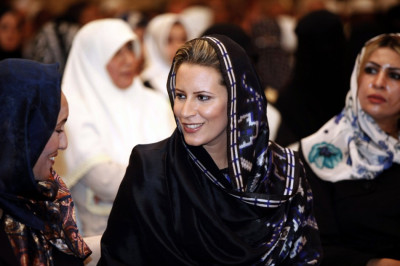 Moammar Gadhafi's death has put Aisha Gadhafi back in the spotlight. Described as the "Claudia Schiffer of North Africa" by the Arabic press, she could have easily graced the pages of Vogue but she opted for a role to further her father's cause.
She was the Goodwill Ambassador for United Nations Development Program since 2009 and worked as an emissary to tackle HIV and also violence against women in Libya. The Independent, however, reported that she was recently relieved of her U.N. duties following the bloody repression of a revolt against her father in Libya.
In an exclusive interview with The Telegraph in October, the glamorous lawyer who was part of the defense team for Saddam Hussein in war crimes trial, said this about her father: "The man is the man. He never changes. He is a man of principles, he believes in causes, defending the poor and the underdog. He never changes the main ideas that he believes in."
Scenes of NATO air strikes are not new to her as, at the age of nine, she was witness to the 1986 U.S. air strike in which Gaddafi's adopted daughter Hana was killed. Speaking about the experience, she told The Telegraph: "I woke (up) to the thunder of the bombs and the screams of my sister with blood spattered over me."
Aisha Gadhafi was also a supporter of Irish Republican Army in her youth and on being asked why she supported the anti-American resistance in Iraq, she said: "When you have an occupying army coming from abroad, raping your women and killing your own people, it is only legitimate that you fight them."
While there may be very few women active in politics in Islamic countries, their presence and the change they have brought about is undeniable.
Start the slideshow to take a look at Aisha Gadhafi and the other gorgeous women who changed the face of Islamic countries.