Aleix Vidal vows to stay at Barcelona following 'spectacular' Champions League display
Spaniard says that he wants to stay but the club will have the final decision.
Luis Enrique full of praise for defender following Borussia Mönchengladbach win.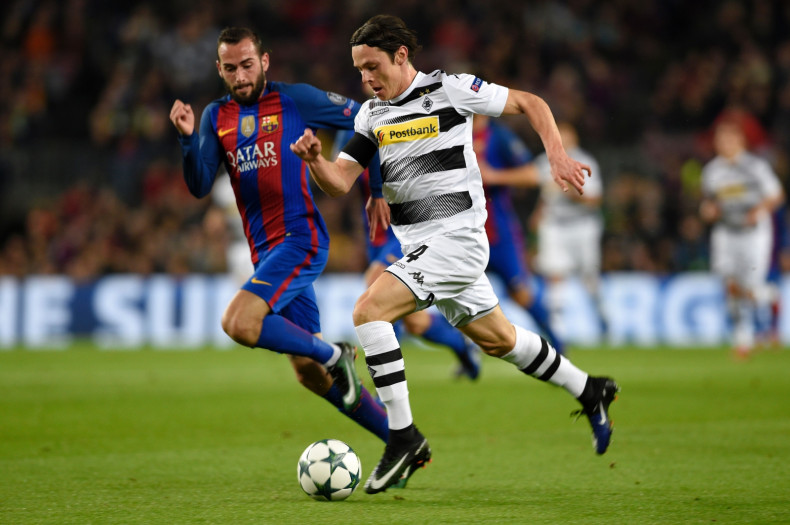 Barcelona outcast Aleix Vidal has claimed that he has "no intention of leaving the best club in the world" during the January transfer window after making his second starting appearance in a week during the 4-0 victory over Borussia Mönchengladbach on Tuesday night (6 December). Luis Enrique has also suggested that he is ready to give him a chance to resurrect his career at the Nou Camp, hailing his latest performance as "spectacular."
The 27-year-old defender was recruited from Sevilla in the summer of 2015 with the hope of turning him into the long-term replacement for Dani Alves. However, the Spaniard was unable to play during the first part of last season because of a Fifa registration ban, and has struggled to make any impact since January.
The departure of Alves to Juventus during the summer promised to give him a new chance to prove his worth in the current campaign. Vidal instead fell out of grace for the Barcelona manager following a 2-1 defeat to Alaves on 10 September, where he was at fault for the Basque side's second goal.
The Spaniard spent the next three months out of action, despite Luis Enrique only having versatile Sergi Roberto to cover the right-back role.
Mundo Deportivo and many other media consequently claimed that the former Spanish international had made the decision to leave the during the January transfer window in order to secure more playing time somewhere else.
Barcelona, meanwhile, have since been linked with the likes of Valencia's Joao Cancelo, Juventus's Stephan Lichtsteiner and Shakhtar Donetsk's Darijo Srna to address the situation.
But the saga can take a new twist after Luis Enrique has decided to take the Spaniard from the exile, starting him in the Copa del Rey encounter with Hercules last week and in the Champions League dead rubber with Borussia Mönchengladbach.
Vidal himself has claimed that Barcelona will have the final decision on his future, but adding that his intention is to keep fighting for a role in Luis Enrique's plans.
"The club can make whatever decisions they want with me, but I have no intention of leaving," Vidal told TV3 as quoted by Marca. "It would be foolish to consider leaving the best club in the world. I have a contract here and I think I can succeed here."
"If I value today's performance, it's because I have not been playing for three months. I'm convinced of my performance, although I have to work on the mental side of things. I can always improve. It's complicated to never play and then to have a performance like today. In training I will continue to give 200%," Vidal said while adding that he has had not any personal issues with the Barcelona boss.
"I understand that it is a sporting issue, not a personal one, with the coach, so I will try to wait for more opportunities and will continue to work hard."
Meanwhile, Luis Enrique has also suggested that he is ready to change his mind and give Vidal a chance to put his Barcelona career back on track.
"He has played these two games, he has had the opportunity and today (against Mönchengladbach) he was spectacular. Furthermore, he proved to be in great physical condition despite having been without playing for a while," the Barcelona boss said to the reporters after Vidal's impressive performance. "He was really good, with the ball and without the ball. I am delighted with his contribution. We welcome anyone who wants to jump on the bandwagon. The more we have, the better it is for us," concluded the Asturian.