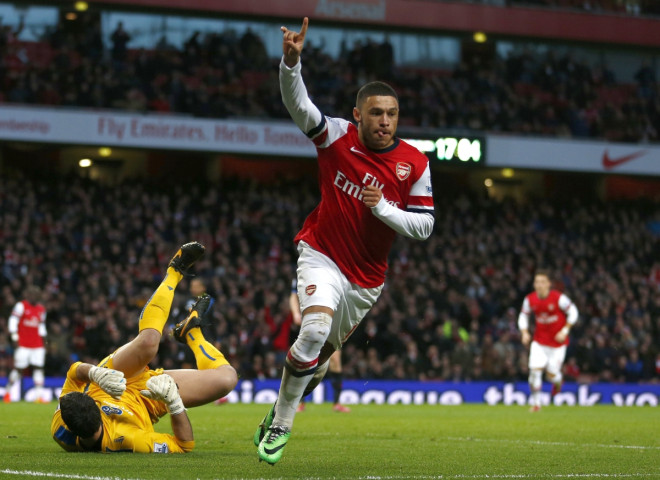 Arsenal midfielder Alex Oxlade-Chamberlain is struggling to get himself fit for Arsenal's FA Cup final against Hull City at the New Wembley Stadium on Saturday, according to the Daily Mail.
The 20-year-old is out with a niggling groin problem and the management will decide on his availability with a fitness test later in the day. The youngster is unlikely to take any risks with his fitness, having been selected for the World Cup in Brazil later in the year.
Chamberlain played a part in their win on penalties against Wigan in the semi-finals and will be hoping to contribute when the Gunners look to end their nine-season trophy drought. However, Arsene Wenger has a plethora of options on him and is unlikely to risk the England international, especially with Jack Wilshere back in the reckoning.
The report states that the prognosis doesn't look good for the player and is unlikely to feature in the Arsenal squad to take on Steve Bruce's men. Meanwhile, club captain Thomas Vermaelen is back fit and is expected to start on the bench in the finals.
Wenger has urged his team to turn up against Hull, having beaten the Tigers 3-0 at the K C Stadium a couple of weeks back. Aaron Ramsey scored one and assisted two to secure three easy points for Arsenal and the whole of north London will be looking at the Welshman yet again to inspire them to their first win since 2005.
However, the fans will look back at their loss to Birmingham in the finals of the Capital One Cup in 2011 and hope that a similar fate does not befall them. Wenger is dismissive of the scepticism and insists that the Birmingham game was in different circumstances.
"Birmingham was a different game, it was in the middle of the season. I don't think about that at all," Wenger said.
"The good thing in our job is you think about the next game, never look back, other people do that for you. You just look in front of you for the next game.
"You never think it will take a long time to win your next trophy. But trophies matter for your fans. It matters for us. It's a concrete sign that you win.
"That's what we want to do. I love to win. Your fans love you to win. Your fans will be happy when you win trophies," he concluded.