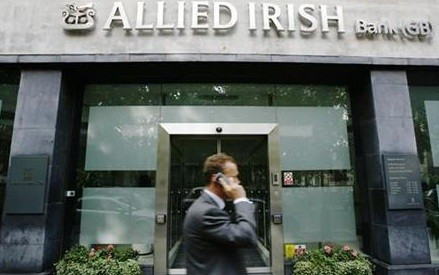 Allied Irish Banks is asking the government over whether it can install a new incentive programme, including banker bonuses, to retain its top staff despite receiving a multi-billion euro bailout from the taxpayer which also resulted in thousands of job losses.
According to a Bloomberg report, AIB has approached the government in a bid to start paying bonuses to its staff after its chief executive's plan, to return the bank to profitability for the first time since 2009, is becoming more and more likely as he aims to axe 2,500 jobs and pare back on bad loan losses.
A spokesperson at Ireland's finance ministry told IBTimes UK that "the government's position in relation to the payment of bonuses has not changed."
AIB declined to comment.
AIB received a €21bn (£17bn, $29bn) bailout from 2009 to 2011 and led to the state claiming a 99.8% ownership of the embattled lender.
The bailout amount accounted for almost a third of Ireland's €64bn financial system rescue package following the global credit crisis.
According to remuneration consultants Mercer, 11 AIB executives had a total pay package that ranged between €400,000 to €500,000, per year up to 2012.
AIB's boss David Duffy received a €500,000 state imposed salary when he became the lender's chief executive two years ago but has since had a 15% pay cut after he slashed compensation amounts for other executives.
Reports over a new incentive scheme follow shortly after Ireland's Finance Minister Michael Noonan's comments at the World Economic Forum in Davos, Switzerland earlier this month, that the government is eyeing up a stake sale in the state-owned lender.
"There's a political timetable as well," said Noonan.
"The government will have an election at the latest at the end of March, early April 2016, so we might test the market sometime ahead of that."