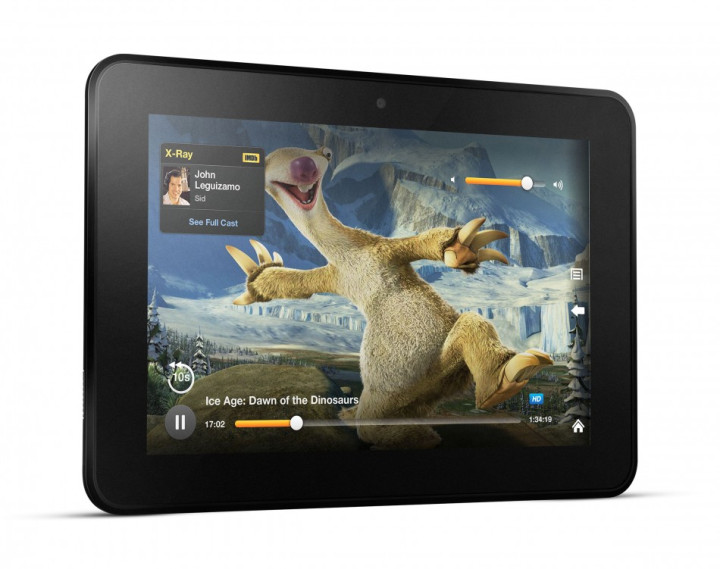 Key Features:
8.9in display, 1920 x 1200
567g, 9mm
16GB/32GB storage
Direct access to Amazon & Lovefilm content
Price as Reviewed: £229
Amazon Kindle Fire HD 8.9 Review
Amazon announced the two new versions of its Kindle Fire tablet last year. We have had the 7in Kindle Fire HD in the UK since last November but it's taken five more months for the larger 8.9in version to make its way to these shores.
The larger Kindle Fire HD is simply a scaled-up version of its smaller sibling, targeting those looking for more screen space for their money. While it certainly makes watching films more pleasurable, the downside is that using the Kindle Fire HD 8.9 to read ebooks for extended periods of time can become tough on your wrists.
Amazon is clearly looking to walk its own path with its forked version of Android and access only to its own content stores, meaning the 8.9in Kindle Fire HD is still very much a content consumption device despite its larger screen.
Design and feel
The Kindle Fire HD 8.9 follows the same design language as its smaller brother, with a combination of glass, soft-touch black plastic and a distinctive black metal strip.
At 9mm (versus 10.3mm) the tablet is sleeker than the 7in version but at 567g (versus 395g) it is significantly heavier. It makes holding the tablet in one hand for extended periods of time almost impossible, and I found that I rarely used it for reading or gaming as a result.
The matte finish on the rear is great, and doesn't attract fingerprints as some plastic tablets do. The black metal strip bearing the Kindle logo is also attractive and into which the stereo speakers are neatly integrated.
The biggest niggle I have with the design of the Fire HD 8.9 is way the screen-lock and volume buttons are almost seamlessly integrated on the right-hand edge of the tablet making them impossible to find. Running your finger over them doesn't help and the fact it is hard to tell the top of the tablet from the bottom a lot of the time, I found myself pawing all sides of the device before finally unlocking the screen.
It may sound like a small niggle but after a couple of weeks of use, it can get very irritating indeed.
Overall the design is uninspiring, and the large black bezel around the screen does nothing to help it, but Amazon will point out that it's all about content and as such the quality of the screen is all important.
Screen
Thankfully for Amazon the screen is a beauty. At 8.9in, the display is significantly larger than the 7in Kindle Fire HD though slightly smaller than 9.7in iPad screen. However with a 16:9 aspect ratio, it could be argued that the Kindle Fire HD 8.9's screen is much more suited to watching videos than the iPad's.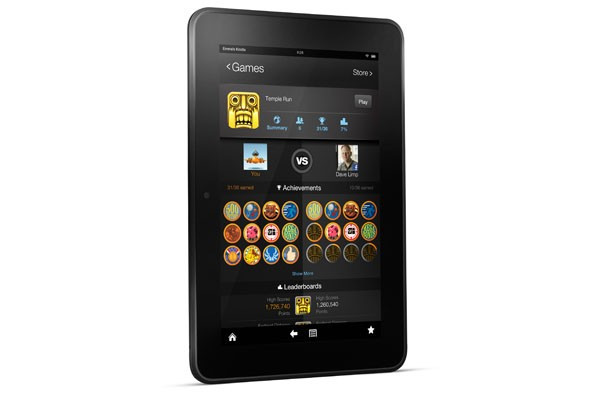 The screen uses IPS (in-plane switching) LCD technology which means viewing angles are great, contrast is superb and colour reproduction is accurate. Everything is also pin sharp thanks to the pixel density of 254 pixels per inch (ppi) which is only slightly below that of the Retina iPad (264ppi) and well above the 216ppi of the 7in Kindle Fire HD and Google's Nexus 7.
Text, whether on the web or in ebooks, is rendered pin-sharp and is a pleasure to read. Watching films on the screen is also a joy though at times the screen's brightness felt too low to get the full benefit of the high resolution panel.
Hardware and Performance
The Kindle Fire HD 8.9 is powered by a slightly faster dual-core processor than its 7in sibling, and while it handles the likes of HD video playback and games like Temple Run well enough, it did feel sluggish at times, with apps taking time to open and close and more intensive gaming like Real Racing 3 looking noticeably jerky.
Amazon says you will get 10 hours of battery life out of a single charge but we found that it was closer to 7 hours in reality, though this was 7 hours of continuous video playback which is pretty decent, if not class-leading.
You can chose between 16GB or 32GB of local storage, giving you access to 12.7GB and 27.1GB respectively once you take into account system software. There is no microSD card slot to expand this, though Amazon does give you free cloud storage for all content purchased from its stores.
As well as a micro USB port for charging and data transfer, you get a Micro HDMI port for outputting videos to your large-screen TV, which comes in handy if your TV cannot access Lovefilm for example.
Software
As I said above, the Kindle Fire HD 8.9 uses a heavily forked version of Android, so heavy in fact that you simply wouldn't recognise this as Google's software at all. The user interface is stripped back and easy to use, focusing on content rather than apps.
The main interface consists of a central carousel of your content, with the most recent content at the front. Above this sits a static navigation bar, giving one touch access to search, shop, games, apps, books, music, videos, newsstand, web, photos, document and offers.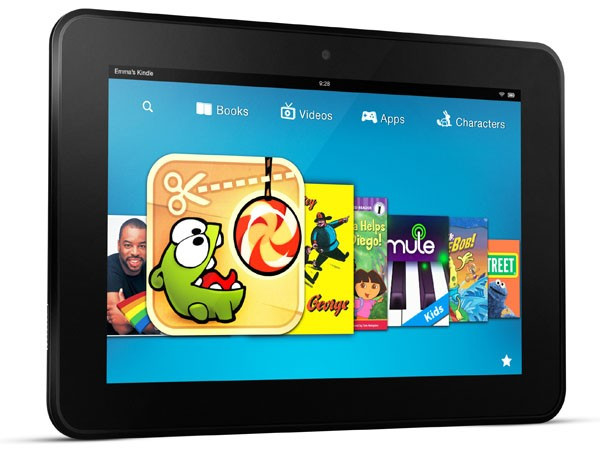 When held in portrait mode, along the bottom of the screen appears a "Customers Also Bought" section, highlighting content similar to the app, game, book etc which is currently displayed on the central carousel.
However unlike the 7in version, the Kindle Fire HD 8.9 is very much designed for landscape use and as a result the interface is a lot cleaner, without the "customers also bought" section showing up.
The big problem with the interface is that navigating in and out of apps can be frustrating, with inconsistencies in where the back and home buttons are placed within certain apps.
Overall however the interface is intuitive and will be very easy to get to grips with for most people.
Music, Apps, Films and Books
As I said, content is king for the Kindle Fire range, but rather than giving you access to Google's Play Store catalogue of apps, music, films and games what you get instead is Amazon's stable of content.
This obviously means leveraging its large catalogue of ebooks it already sells through its market-leading ereaders, but also its online music service and app store. While the music and apps catalogues are not as diverse and complete as those on offer by Google or Apple, for most people they will suffice with all the major apps available.
You should note however that apps like Gmail or Google Maps are not on offer and as a result I found setting up my email accounts to be a bit of an ordeal, especially if like me you use a non-Exchange IMAP account for work.
Films are handled entirely by Lovefilm, the entirely Amazon-owned video streaming service. This means unless you have an internet connection, you won't be able to access any of the content. There is no feature to download films and TV shows to watch offline, rent films or buy them outright.
This is very limiting and I feel it wastes the superb screen on the Kindle Fire HD 8.9. The lack of a built-in video player allowing you watch your own catalogue of movies is also disappointing.
There are however some ways around the problem and VLC has released a Beta version of its popular video player app, which will let you playback all manner of video file types, including .mov, .avi, .mkv and .mp4. Not an ideal solution but for those looking to use the Kindle Fire HD on a long haul flight, an absolute must.
Value and Verdict
The Kindle Fire HD cost £229 for the 16GB version (though if you don't want annoying ads on the lock screen you'll have to pay a £10 premium) while the 32GB version costs £259 (£269 without the ads).
This is great value considering the excellent build quality and superb screen. The 9.7in iPad 4 costs £170 more while the iPad mini costs just £40 extra, though its screen is an inch smaller.
What it comes down to is what you want to use your tablet for. If you want something for reading books, occasionally browsing the web and watching films and TV, then the Kindle Fire could be for you.
Want access to a huge array of apps and games in a smaller, lighter and more premium package, then it's probably work forking out the extra £40 for the iPad mini.
Scores
Overall 8/10
Screen 10/10
Design 9/10
Performance 8/10
Value 8/10
Software 8/10
The Good
Superb screen
Excellent build quality
Decent battery life
The Bad
No access to Google services
No native video player/store
Heavy