Amazon Kindle Voyage Key Features:
6in touch screen with 300 pixels per inch and automatic light adjustment.
4GB of storage holds thousands of books.
New PagePress controls.
Available as Wi-Fi-only, or with free 3G.
7.6mm thick, 180g (188 for 3G model).
Price as reviewed: £229 (Wi-Fi-only is £169).
Ereaders have steadily fallen in price since they arrived around seven years ago, and now you can pick up a basic Amazon Kindle for just £59. But as in any market, there will always be an opportunity to run against the race to the bottom and produce something better at a price that those who appreciate the extra quality will be willing to pay.
Kobo first tried this with the Aura HD, and now Amazon is setting out on a similarly premium path with the Kindle Voyage, a 6in reader with a high resolution touch screen, thin body, adaptive lighting and pages which turn with a squeeze.
---
Amazon Kindle Voyage: Look and Feel
---
Design-wise, there isn't much to do with an ereader - and nor should there be. Everything should get out of the way, letting you focus on nothing but the words on the page. The Kindle Voyage does this well thanks to the black frame, and although covered in glass, it doesn't suffer from reflections and glare any more than other, plastic-fronted Kindles.
More about the screen later, but for the rest of the design, the Voyage is spot-on. It is lighter and more compact in every direction when compared to both the regular Kindle and Kindle Paperwhite, and the tapered edges - often your only point of contact while reading - are tiny, making it feel slimmer than it already is.

The rear is covered in soft-touch plastic, with a glossy panel at the top acting as an antenna for the Wi-Fi and 3G connections; the former is present on both models, while 3G adds a one-off £50 premium to the £169 base price. A power button resides on the back, where it is easily found without looking, but firm enough to avoid accidental presses.
Overall, the Kindle Voyage is comfortable to hold in one hand for long periods of time, and the 26g weight saving over the Paperwhite fixes our only criticism of the cheaper model.
---
Amazon Kindle Voyage: Screen
---
The Voyage's screen is where Amazon has worked hardest to justify a £60 premium over the Paperwhite. It still measures six inches but has a much higher resolution, meaning pixel density is now 300 per inch, up from 212 on the Paperwhite and 127 on the regular Kindle.
Not only is the resolution higher, but glass now replaces plastic. This may sound like a strange move, given how reflective glass-screened tablets are, especially outdoors, but Amazon has used a micro-etching process to take the shine away, leaving a surface which feels just like the trackpad of a MacBook Pro and reflects much less than a tablet or smartphone.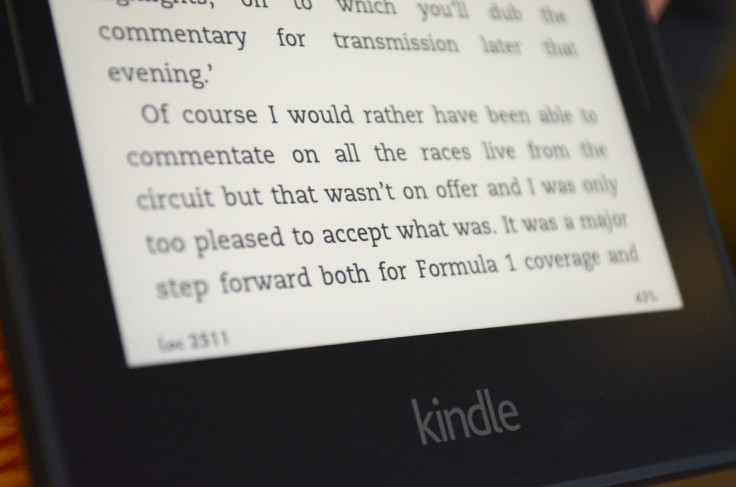 I'm not sure if the switch to glass has made the screen any sharper, or reading any more enjoyable - and who knows what happens when you drop it - but it has a nice texture and reflects no more than the Paperwhite, while the extra pixels help make text smoother.
The higher resolution is noticeable when you're looking for it - and probably makes my eyes strain less at the pixels of each word - but once you're engaged with a book these subtle difference fade away. Where a huge 4K television is going to surprise and impress you with its quality at every moment, pages of virtual text quickly begin to look the same on almost any ereader.
---
Amazon Kindle Voyage: PagePress
---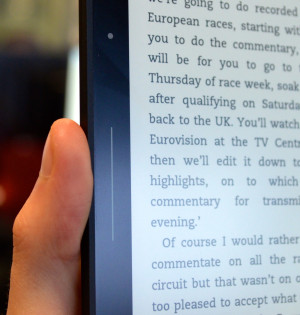 Unique to the Voyage is a new feature called PagePress, where pages can be turned by applying pressure to capacitive touch buttons on either side of the screen. But unlike the touch screen, which responds to taps, the PagePress controls respond to pressure, so you can rest your thumb on them and the page will only turn when you squeeze the Kindle, an action confirmed by a subtle vibration at each turn.
It sounds smart, but isn't particularly intuitive. It took me a long time to work out exactly how much pressure was required and how to hold the Voyage comfortably while keeping my thumb in the right place. Gripping the Voyage to avoid dropping it on a bumpy train caused me to lose my place; but once you get used to it the system works well, and there are three levels of pressure to choose from in the settings menu.
However, if PagePress isn't for you it can be switched off and tapping the screen works as normal - right side for forward, left for back.
---
Amazon Kindle Voyage: Software and Performance
---
Some people - myself included - are only interested in reading an ebook from cover to cover. But for those who want more, the Kindle Voyage's software has you covered. You can use X-Ray to learn more about characters in books (although this doesn't work on all titles), annotations can be made, and dictionary descriptions can be read by pressing any word. You can also search Wikipedia for more information on almost anything or anyone written about in your library.
E-ink screens have improved massively in recent years, to the point where typing on the keyboard is almost as fast as on a tablet or smartphone, while the user interface responds quickly, with the Voyage suffering from fewer jarring screen refreshes than Kindles of old.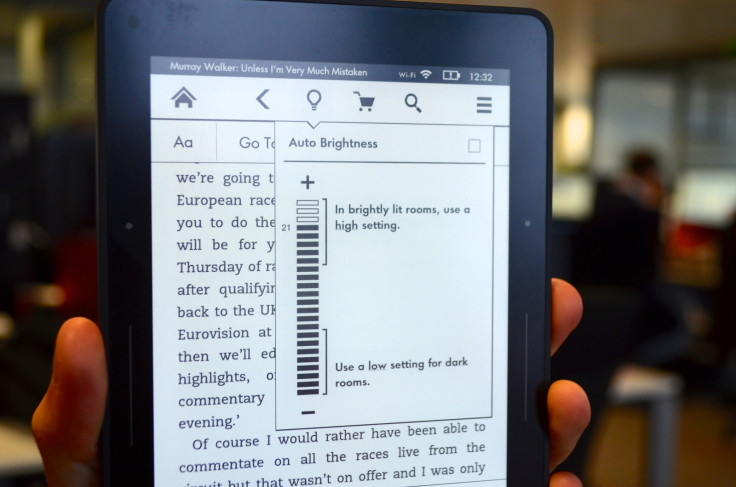 It still isn't as smooth as a tablet, but for quickly looking up a definition, adjusting screen brightness (which is uniquely automatic on the Voyage, plus manual controls) or buying books from the Kindle Store, the experience is a good one.
Storage is 4GB, enough for thousands of books, and battery life is up to six weeks based on 30 minutes of reading per day with wireless switched off; having used the Voyage for several days I'd say a week of reading during my two hours of commuting each day is achievable.
---
Amazon Kindle Voyage: Verdict
---
At £169 for the Wi-Fi model and £229 for added 3G, the Kindle Voyage is expensive. But if you want the best, most refined ereader on the market that's the price you'll have to pay.
It has the highest resolution screen, producing the smoothest text with the most natural-looking light, wrapped up in a device which is comfortable to hold and easy to use. I suspect casual readers will be put off by the price - especially when the regular Kindle is just £59 - but for those wanting the best, the Voyage is what they should buy.
Amazon Kindle Voyage: Scores
Design: 9/10 - Almost perfect, only let down by PagePress feeling slightly unnatural.
Build Quality: 10/10 - Absolutely nothing to fault, as long as that glass screen doesn't crack...
Software: 9/10 - Responsive, intuitive and plenty of features are there if you need them.
Screen: 10/10 - Perfect size, evenly lit and with a high resolution. Nothing to fault.
Overall: 9/10 - The perfect ereader, but it comes at a price.
The Good:
Great screen.
Intuitive software.
Comfortable to hold.
The Bad:
PagePress control takes some getting used to.
Expensive.