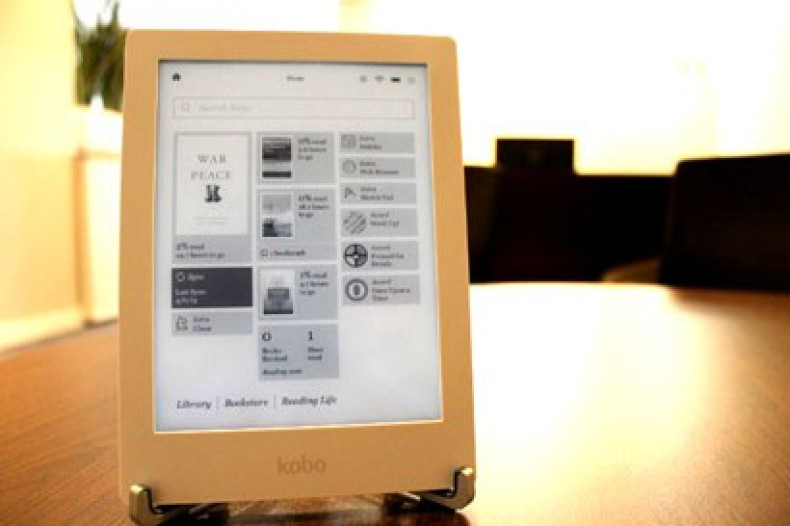 Key Features:
6.8in E-Ink HD display, 1440 x 1080 resolution
Front-lit screen
Weighs 240g, 11.7mm thick
Wi-Fi and 4GB storage + microSD card slot.
Price as Reviewed: £139.99
Kobo Aura HD
The Kobo Aura HD comes to a market with no shortage of well-priced and high quality competition. Amazon's Kindle Paperwhite, and Nook Simple Touch GlowLight by Barnes & Noble and Kobo's own Glo are all impressive, front-lit ereaders and all cost just over £100.
At £140, the Kobo Aura HD is around £30 more expensive than the competition, but claims to offer a far superior reading experience, thanks to its larger screen and higher resolution.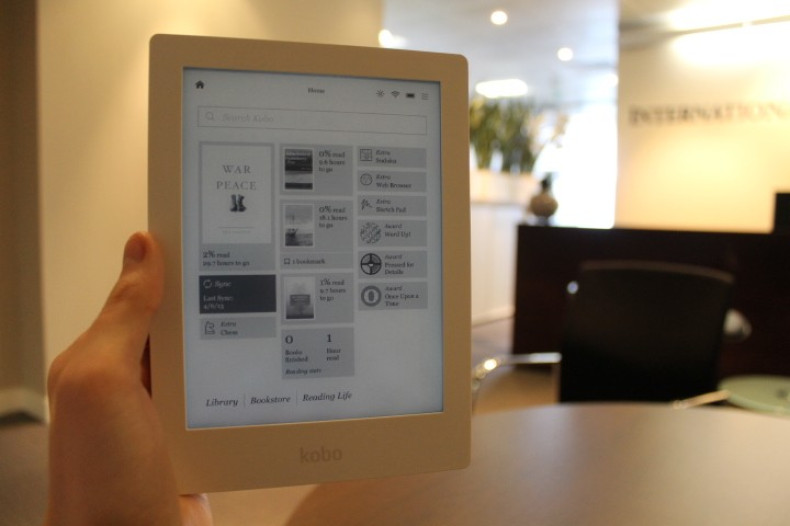 It's difficult to look any further than the Amazon Kindle Paperwhite when looking for an ereader, but we've spent a few days with the Aura to see if Kobo can put up a worthy fight.
Look and Design
Ereaders are all much of a muchness. All have a grey screen at the front, a plastic body in a neutral colour around the sides, and not much else. We're told never to judge a book by its cover, and judging an ereader by its design alone won't get you far either, but that hasn't stopped Kobo from trying to make itself stand out with the Aura.
The front is about as generic as is possible, but turn the Aura HD around and its design gets more interesting. The rear cover has three creases running from top to bottom, one concave and two convex.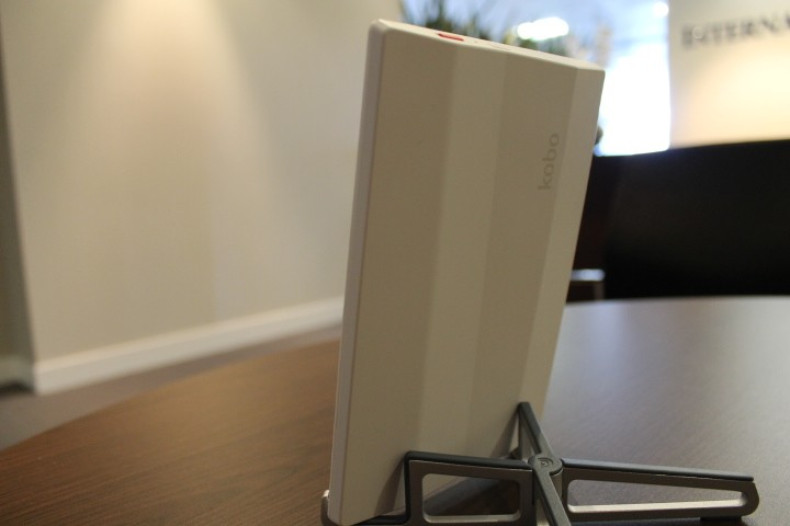 Not only do these creases make the Kobo Aura an interesting device to look at, they are positioned in such a way that they make the reader easier to hold, the slight change in angle making the Aura feel more secure when held one-handed.
My review unit came in white (or Ivory, as Kobo calls it) and its plastic shell has the same matte finish as the Kobo Glo and Mini from last year, and it's a texture I like; easy to hold and - tablet makers take note - doesn't cause any annoying reflections to distract me from the screen.
The top edge is home to a red power switch and a button to activate the light, while the bottom edge has a microSD card slot to increase the Aura HD's 4GB of internal storage to up to 32GB, enough for tens of thousands of books, magazines and newspapers.
The Aura measures 128 x 176 x 11.7mm and weighs 240g, making it around 30g heavier than the Kindle Paperwhite and larger in every direction, but I still found it comfortable to hold in one hand, while the bezel is large enough so you don't touch the screen and turn pages by accident.
Screen
At 1440 x 1080, the Kobo Aura HD has the largest screen resolution of any ereader on the market. This means text is sharper and more rounded than that of the Kindle or other rivals, and it remains more legible at smaller sizes. This, combined with the slightly larger screen (6.8in vs 6in for the Kindle) makes the Aura a more comfortable reading experience, resulting in less frequent page turns and, in theory at least, an improved battery life.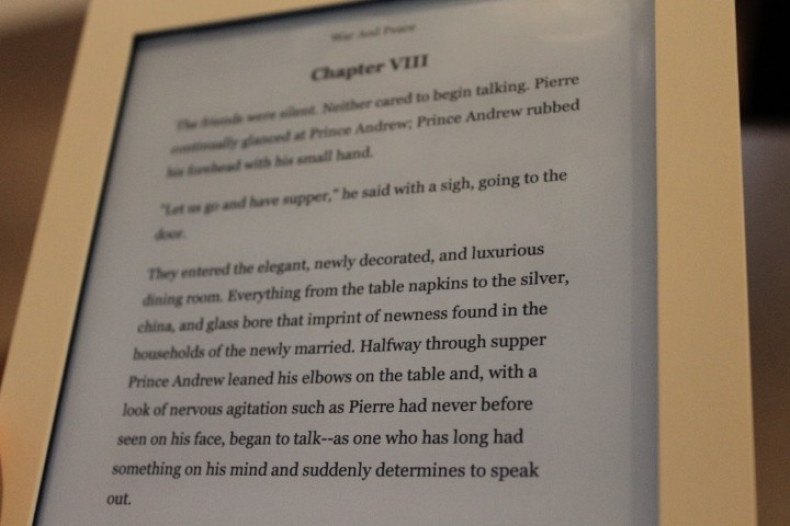 Kobo has fitted the Aura with a front light, which bathes the screen in a soft, slightly blue hue. Kobo claims the Aura HD's display is the most evenly-lit of all ereaders and in my few days with the device I can't disagree.
Called ComfortLight, It's incredibly even - more so than the Kobo Glo was last year - and can be adjusted from uncomfortably bright to barely noticeable, perfect for reading in a dark room without wishing to disturb others.
There are no buttons surrounding the screen like ereaders of old, as controlling the Aura is done entirely with touch and gestures. The display responds well enough, but don't expect it to be as responsive as an iOS or Android tablet. More on this in the software and performance section below.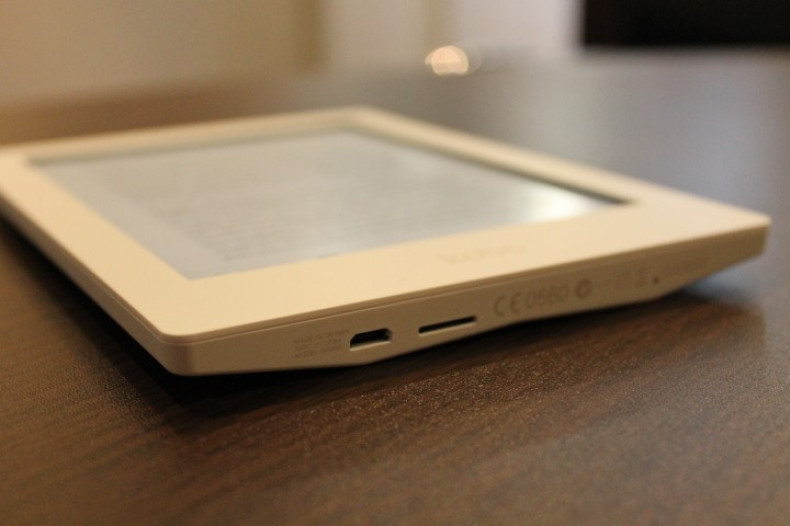 Kobo has given the Aura HD an excellent screen, probably the best of any ebook reader, and although the extra size makes it more difficult to slip into a back pocket, the result is a more comfortable read with less page turns.
Software and Performance
Most ereaders will be used to do just one thing - read ebooks. But some users will want to know exactly where their £140 (and that £30 premium over the Kindle) is going. As well as displaying books, magazines and newspapers (of which 3.2 million are available from the Kobo Bookstore) the Kobo Aura HD has chess and sudoku hidden away in a submenu of its settings application, along with a web browser and Reading Life, a way to keep track of your reading.
Reading Life keeps track of how quickly you read to provide estimates of how long your current book will take to complete, along with stats like average minutes per reading session, total page turns per book, average pages read per minute, and total time spent reading on the device.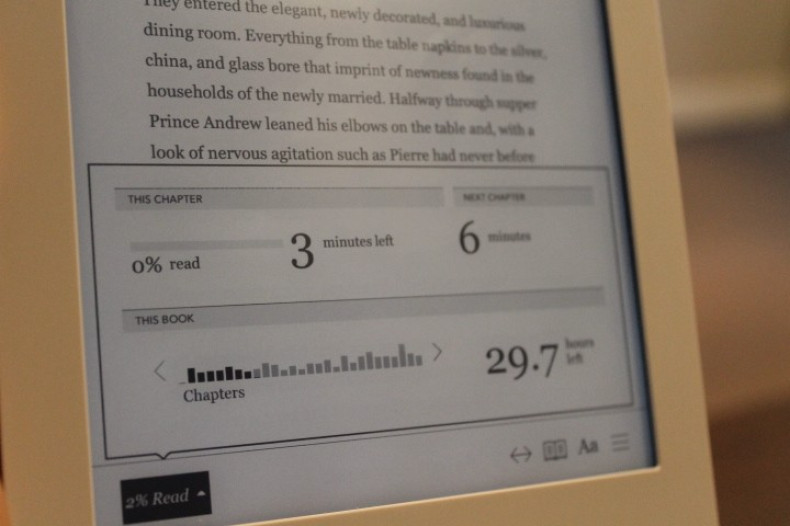 For me, Reading Life and its Awards section (which gives you badges for completing tasks like reading two books at once, or reading at the same time on five different days) is aimed at children, or at least for their parents to keep track of how much (or little) they are reading and how often.
Including a web browser and awards system on an ebook reader probably won't appeal to many users, but it's good to see Kobo is experimenting and isn't afraid to try something new, rather than follow Amazon's well-trodden path too closely.
As for performance, the Aura HD is powered by a 1GHz processor. It won't set the world on fire, but then turning pages of plain text and running a simple game of sudoku is hardly taxing.
That being said, the Kobo sometimes felt like it was lagging behind my inputs more than other ebook readers. Page turning (with a swipe or tap) was always fast, with a full page refresh every sixth turn, but navigating through menus and tapping small icons was occasionally hit-and-miss.
This could be me not being accurate enough with my screen taps, or being so used to the tactile feedback of my own, older Kindle with its physical buttons. Either way, the first few hours with the Aura HD resulted in several failed attempts at hitting icons, or tapping twice because the software didn't respond as quickly as I was expecting.
Performance is far from bad, it just takes some getting used to and after a day or so you will have learnt how best to tap at the screen.
Value
At £139.99 when it goes on sale on 25 April, the Kobo Aura HD is £30 more expensive than it's main rival, the Kindle Paperwhite and £40 than the Kobo Glo.
In return for the extra cash, the Aura returns a higher screen resolution and larger display, which both make reading more comfortable without the device becoming overly large or difficult to hold in one hand.
Kobo's store offers a range of books as wide as Amazon's and at very similar prices, although navigating it can be difficult at first, as with no books on the device the store doesn't know what to recommend, and to the 'most popular' and 'featured' pages are hidden behind the ambiguous submenu of 'Reading Lists'.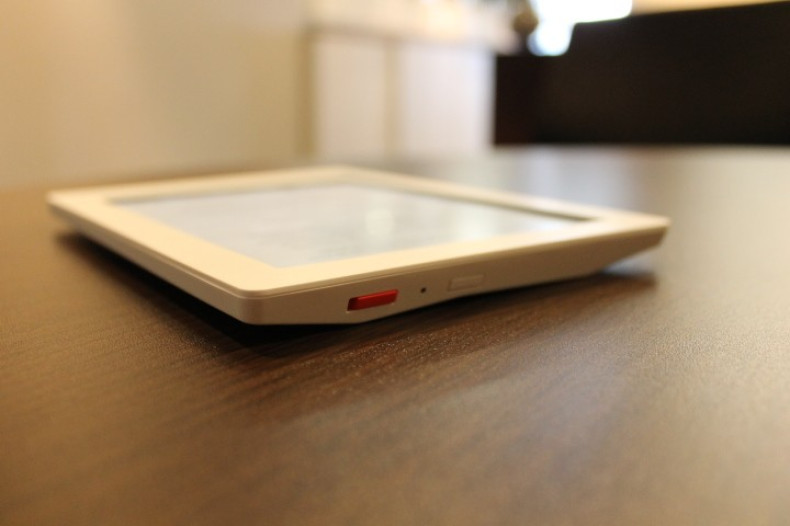 Verdict
Kobo thinks bigger is better, and has sacrificed a slim, pocket-friendly design in favour of an extra inch of screen space and a higher resolution. Has this move paid off? Well the Aura HD isn't pocket-friendly like my old Kindle is, but in return the screen of the Kobo is much better.
Reading with the Kobo is more comfortable, even at smaller font sizes, thanks to the higher resolution and extra space, so page turns (which are still jarring on ebook readers) occur a little less often.
The Aura's creased back makes it comfortable to hold and the screen light is the best I've seen.
£30 isn't a huge premium to pay for the extra size and resolution, but it's a £30 premium on the market leader and for a number of features that most users won't look at twice.
I know some consumers will appreciate the unusual design and HD screen, but where the iPhone's upgrade to Retina was seen as the Second Coming, a resolution bump in the world of ebooks is less enticing, especially from a brand I fear isn't as recognisable as Amazon, nor has the marketing budget to change that.
I like the Aura HD a lot, but I suspect the Kindle logo and £30 to spend on books will keep Amazon at the top of the ebook foodchain.
Scores:
Overall: 9/10
Design: 9/10
Value: 8/10
Screen: 10/10
Build Quality: 9/10
The Good:
Very high quality screen with even frontlight
Good build quality
Kobo Bookstore is extensive
The Bad:
Slightly too expensive
User interface can feel a little sluggish