Amazon testing delivery drones at secret site in Canada following stalled US regulations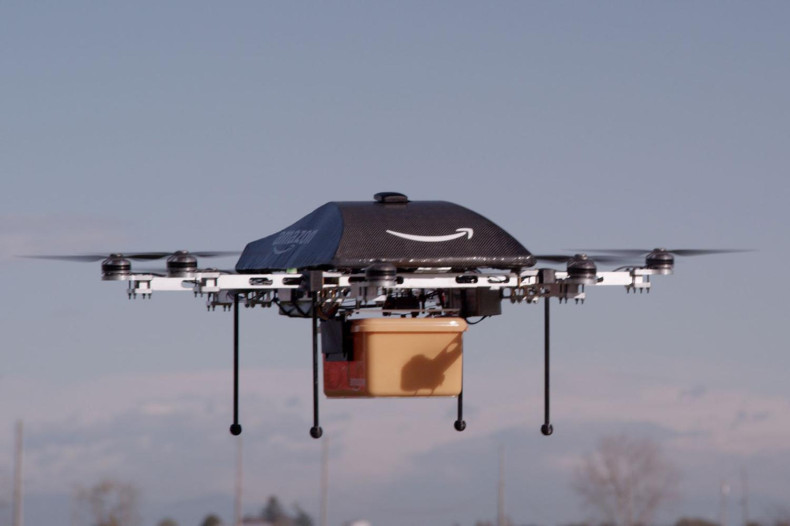 Due to frustrations over delays in US approval over commercial drone regulations, Amazon is now testing out its delivery drones in Canada. The secret testing site for the Amazon Prime Air drone delivery service is located somewhere in British Columbia, only 2,000ft from the US border, according to the Guardian.
Amazon wants to start utilising unmanned aerial vehicles (UAV) weighing under 55lbs (25kg) to start delivering packages that weigh less than 5lbs (2.3kg) within 30 minutes of ordering, which the internet retailer says account for 86% of the packages it currently sends out through regular mail.
On 25 March, Amazon's vice president of global public policy, Paul Misener appeared before the US Senate Committee on commerce, science and transportation to complain about how slow the Federal Aviation Administration (FAA) has been to approve legislation, giving the example that the recent airworthiness certificate granted to Amazon was for an old drone that was already obsolete.
Amazon warned the Senate that the company stood to lose hundreds of millions of dollars in investments, and that it was already testing out its drone delivery service in several other countries, and the longest that any of these countries had taken to grant approval was two months.
Testing drones outside the US
Gur Kimchi, the head of Prime Air, had hoped to be able to develop and test the drone service in the US near Amazon's headquarters in Seattle, but the FAA put restraints on testing.
"But we're limited there to flying indoors and have been now for a very long time. So we do what's necessary – we go to places where we can test outside, in this case Canada," he told the Guardian.
The company had also been testing UAVs at research facilities in the UK and Israel while waiting for approval of the Section 333 exemption it applied for with the FAA in July 2014. That approval took eight months and now Amazon has moved past the model of drone that was granted approval.
In contrast, the Canadian government is much more relaxed about UAV testing, and in fact the licensing process, which covers Amazon's entire fleet of drone prototypes being tested in a designated airspace, took only three weeks to approve.
Extensive capabilities being built into drones
The tests being carried out in Canada are focusing on a wide range of drone capabilities that include sensors able to detect and avoid any obstacles in the drone's flight path, as well as procedures for controlling the drone should its connection to the base or operators be lost for any reason.
Amazon is also making sure that its prototype delivery drone is able to handle wind stability and turbulence, as well as impact on the environment.
"We are going to end up with unique shapes, unique vehicles. The most important part is to develop strong confidence that our system is safe and that we can demonstrate that to customers," said Kimchi.
"You can build a very different world. It can be faster, and safer, and more economic and more environmentally friendly – all of those things, all at the same time."
Blanket legislation for line-of-sight testing
On 24 March, before Amazon's testimony to the Senate, the FAA announced "an interim policy to speed up airspace authorisations for certain commercial unmanned aircraft (UAS) operators who obtain Section 333 exemptions".
In translation, this means the FAA will now allow all commercial drone flights below 200ft but they have to be on a special list of vendors already working with the aviation authority, which currently totals about 45 companies.
The new blanket legislation enables these applications to get moving much faster as the companies that have received Section 333 exemptions were previously still required to file flight plans and obtain additional air traffic control authorisation for every single test flight they planned.