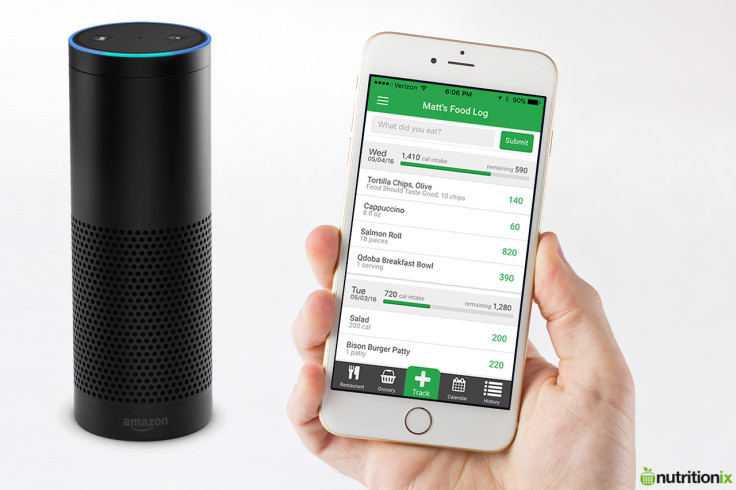 Amazon's popular virtual assistant Alexa seems to be getting smarter every day with over 900 skills added over the past six months that range from hailing you an Uber cab to checking your credit card balance. Now the digital assistant can help you meet your calorie goals and keep your diet on track with a new food tracking skill powered by Nutritionix.
Using Alexa's new Track by Nutritionix skill, users can now ask the cloud-based virtual assistant for nutrition information on more than 20,000 foods from the Nutritionix dataset through Amazon's voice-controlled home devices such as the Echo, Echo Dot, Amazon Tap and Amazon Fire TV.
By simply saying "ask FoodTracker", you can ask Alexa about 11 different nutrients supported by the skill, including calories, fat, saturated fat, cholesterol, carbohydrates, fibre, sugar, protein, sodium, phosphorous and potassium.
You can also use Alexa to keep track of the food you eat and add the items to your running Nutritionix food log. To do so, just enable the skill via the Alexa app and link it to your Nutritionix account to log your meals for the day.
"We're thrilled to work with Nutritionix to launch the Nutritionix Alexa skill, providing an even larger nutrition and food database to our customers," Rob Pulciani, director of Amazon Alexa, said in a statement. "It's more convenient to track your daily food and nutrition when you can use your voice. Alexa now has more nutritional data, so customers are better equipped than ever to tackle their health and fitness goals, just using their voice."
By doing away with the tedious process of manually searching for each individual food to keep track of every meal they consume, Nutritionix managing partner Daniel Zadoff says the new Alexa skill will "revolutionise the food tracking process" by removing the hurdles to meal logging.
"People working towards dietary goals often end up quitting early because of how difficult it is to track what they're eating," Zadoff told IBTimes UK. "With Track by Nutritionix, one can now log their entire day's worth of food in less than 60 seconds. This will completely revolutionize the food tracking process by making it nearly effortless for consumers to incorporate food logging into their daily lives. By integrating with the Alexa family, we are continuing to remove hurdles in order to provide the easiest and fastest way to track what you eat."
Last week, Amazon announced that Alexa's constantly growing smart skill set now boasts more than 1,000 skills, highlighting the company's ambitious goals to establish itself as a leader in the smart home market.
In May, Google launched its own AI assistant called Google Assistant and smart home speaker, Google Home, to rival Amazon's Alexa. Apple is also reportedly working on its own Siri-powered home speaker.
Amazon CEO and founder Jeff Bezos, however, says he isn't worried.
"I think there are going to be a bunch of artificially intelligent agents in the world," Bezos told Recode's Walt Mossberg at Recode's Code Conference. "There are going to be specialties, and you may not ask the same AI for everything. I bet the average household will use a number of these, but to me that's a very exciting seed that we've planted. I love working on stuff like that, and the team is brilliant."