Amazon has announced that the front-lit Kindle Paperwhite ebook reader will go on sale in the UK from 25 October, costing £109.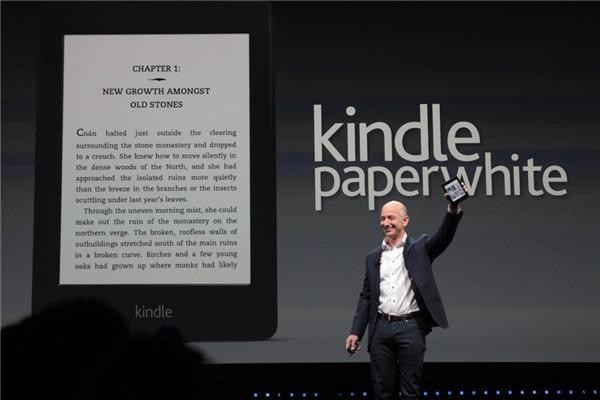 The new model is very similar to the six-inch Kindle Touch that we reviewed recently, but has a light in front of the screen, but hidden behind the bezel, meaning you can read the Paperwhite in bright sunlight as well as in a dark room.
CEO of Amazon, Jeff Bezos, said: "Kindle Paperwhite is the Kindle we have always wanted to build. You'll do a double take when you see it - we've added 62 percent more pixels to the display to render exceptionally sharp, clear text and images, and 25 percent higher contrast, so whites are whiter, blacks and blacker.
"We've also added a revolutionary, built-in front light that provides the perfect reading experience whether you're out at the beach of at home in bed. Our breakthrough technology means a battery life of up to eight weeks, so you can leave the light on at all times without worrying."
Although we don't know for sure, ebook battery life quotes are usually based on around 30 minutes of reading per day, and one page turn per minute - when this is taken into account having the light on or off for that period of time has little effect on battery life expectations.
Amazon is charging £109 for the Wi-Fi version, while a 3G model - with a free mobile internet connection so you can download books anywhere - will cost £169.
The company has also announced a new feature for its Kindle store - the Owners' Lending Library, which will be available later this month.
Bezos explained: "With an Amazon prime membership [around £50 per year], Kindle owners can choose from more than 200,000 books to borrow for free as frequently as once a month, which no due dates and no waiting in line.
"We are thrilled and energised by the reception that both Kindle Paperwhite and the Kindle Owners' Lending Library have received in the US, and we know you'll enjoy them too."
The paperwhite gooes on sale in the UK on 25 October, but you can preorder yours from the Amazon website now.