An Amy Winehouse tribute concert led by her father Mitch, will be held to mark the fifth anniversary of her death. It will raise funds for her charitable foundation aimed at helping youngsters overcome drug and alcohol abuse.
The Back to Black singer's death shocked the world over after she died from alcohol poisoning in 2011 at the age of 27. She was found dead alone at her home near Camden Town in London.
Winehouse's singing talent, that once earned her five Grammy awards in one night, was not enough to shield her from her ongoing drug and alcohol addictions that led to her tragic downfall. Just last week her ex-husband Blake Fielder-Civil, with whom she had a volatile two-year relationship, suspected Amy's death was suicide and went as far as saying that he and those closest to her should take "a share of blame" concerning her death.
"After years of drinking she must have known she was drinking far beyond what she could handle," he told The Sun. "Maybe she expected someone to come in and stop her, take the bottle away. But instead, she was left alone to drink herself to death in that house."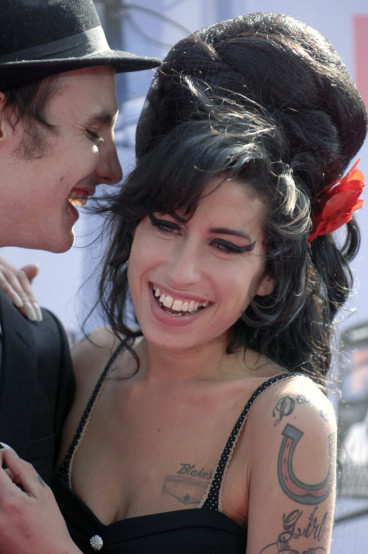 He told the paper he rang her to apologise just weeks before her death for hanging up on her. She had phoned to remind him of their wedding anniversary but he couldn't talk as his partner was in labour at the time : "She told me she had cut herself really badly. She said it had been serious.
"But Amy really no longer cared if she lived or died."
Her father, Mitch, once described Fielder-Civil as "the biggest low-life scumbag that God ever put breath into".
Film controversy
Asif Kapadia's film Amy, which portrayed the rise and fall of the jazz and pop star, won best documentary feature Oscar this year. But was previously criticised by Mitch for portraying him as an absentee father.
Speaking after the film won the award, he said: "It's gratifying to know that people still love Amy, and they love her music, and they love her as a person. But the anger around the film hasn't abated."
The concert in memory of Amy Winehouse will take place at Pizza Express Jazz Club in Soho, London, on Sunday.
Mitch Winehouse, his ex- wife, Janis Winehouse-Collins, 61, and Amy's stepfather Richard Collins, 65, set up the Amy Winehouse Foundation after Amy's death.
Scores of people took to Twitter today to remember the icon using the hashtag #AmyWinehouse.