The German-Iranian teenager who murdered nine people in a Munich shopping mall was heard yelling "I was bullied for seven years" in an exchange with by-stander. The German newspaper Bild reported that police had raided the home of the teenager, where he had lived with his parents, in the district of Maxvorstadt.
On 23 July an 18-year-old lone gunman named by German police as David Ali Sonboly, opened fire in the crowded Munich Olympia Shopping Centre, in the district of Moosach, and a nearby McDonald's just before 6pm. Munich Police President Hubertus Andrae said that a number of adolescents were among the dead and the 16 injured included several children.
The incident sent the city into meltdown, with rumours of up to three shooters on the loose spreading on social media and its entire public transport network was suspended.
Videos emerged online showed a black-clad gunman leaving the fast food restaurant and firing a pistol with both hands at group of people running for their lives.
Shortly after 2am on Saturday Munich police announced that Sonboly was found dead in a side street. He is believed to have killed himself. They added that it was too early to label the attack as an act of terrorism and have failed to confirm whether or not the attack was linked to an Islamic group or a far right group.
During a news conference on 23 July, Andrae said that the motive was still "fully unclear". "The question of terrorism or a rampage is tied to motive, and we don't know the motive," Andrae said.
A quiet killer
Despite a lack of police information, some details about the gunman have emerged. The Daily Mail named the gunman as David Ali Sonboly, describing him as a "loner" whose father works as a taxi driver and mother works in the German department store Karstadt.
The newspaper adds that he had attempted to lure some of his young victims to their deaths by promising free McDonald's food using a fake Facebook page. The AP say that the Facebook post was "one part of the comprehensive investigation" that police are conducting.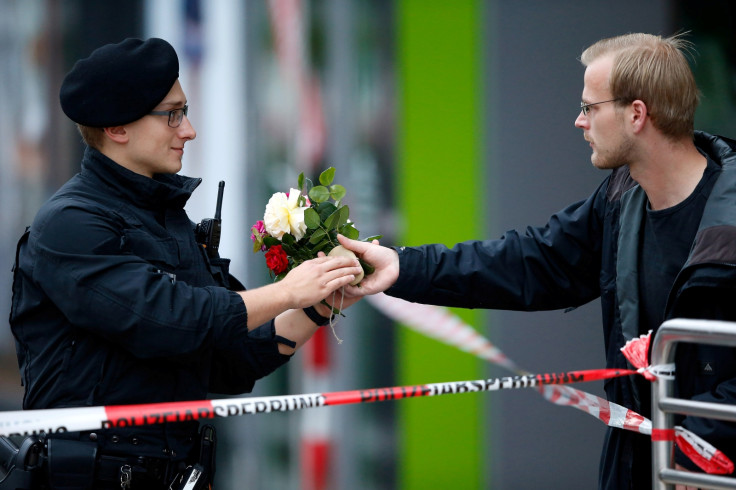 What police have confirmed that the attacker held dual German-Iranian nationality and was born in Germany. In a brief exchange with an onlooker, as the gunman stood on a car park roof near the shopping centre, the attacker appeared to say that "he had been bullied for seven years" before firing his gun.
German newspaper Bild reported that locals described Sonboly as a "quiet guy". "He lived right next to me. I saw him only occasionally and do not really know him. A friend of mine was his classmate, saying that he was more of a quiet type. He recognised him in the [videos]," a neighbour told Bild.