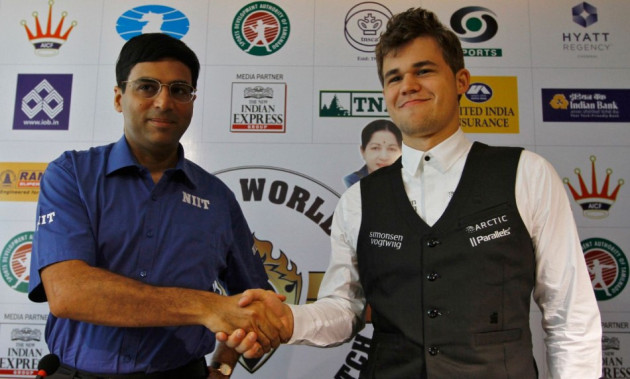 Click Here to Get Game 10 Results
With a defeat and solemn dethroning looming over his head, defending champion Viswanathan Anand squares off against rising challenger and World No 1 Magnus Carlsen in a must-win tie in Game 9 of the 2013 World Chess Championship at Hyatt Regency Chennai, India, on Friday.
Where to Watch Live
The play starts at 9:30am GMT at Hyatt Regency Chennai, India. Live coverage of Game 9 will be available on the official FIDE website.
Overview
With the Norwegian handily winning the Game 9, Anand has been completely driven to the wall, with nothing less than a win in Game 10 helping him stay afloat in the tournament. The win after 28 moves has seen the 22-year-old take an almost unassailable lead of 6-3 over Anand, and the challenger is only a draw away from his world championship.
Anand will feel the intense pressure of expectations as he plays against a rival half his age seeking a lifeline, and will look not to repeat the mistakes he made in previous losses.
In Game 9 Anand, playing with white pieces, had a very good opening. But an error in the final stages of the game saw Carlsen taking advantage of the situation. The game was all over after 28 moves being played.
The Grandmaster has never won against Carlsen for the last two-and-a-half years, leaving him in search of his first win in the 2013 World chess championship. Anand is under immense pressure as nothing less than a win in the next three rounds would be of any help.
The Indian has lost three rounds, Game 5, Game 6 and Game 9 and the World No 1 has a three-point lead over Anand. The defending champion needs to win the remaining three games to keep his hope alive of forcing for a tie breaker on 28 November.
It is to be seen whether Carlsen will go for a win during Game 10 or shift to a defensive play in order to settle for a draw. Half a point from the remaining three games would see the Norwegian push Anand from the World championship title.
The remaining matches take place from today to 26 November. If the match remains tied after Game 12 on the final day, tie-break games will be played on 28 November.
What They Say
Viswanathan Anand: "The position was very very interesting. Here I spent a hell of a lot of time essentially getting into this position. If the king goes to h8 usually it looks like it should be lost. As I have the extra resource of Qf7 check. Here I was anticipating Qh8. Because f6, g6, Qh4, b2 and moreorless similar idea like in the game."
Magnus Carlsen: "It was really tough game. From the opening it was clear it is going to be unbalanced. And I run a serious danger of getting mated which I hadn't in previous games. I had to deal with the situation. I had to create counterplay. It was really tough game."
What Experts Say
Garry Kasparov: "Anand rushed the attack, looking for concrete finish. Could have kept tension. 23.h4 Nc7 24.Qa3 is one example. 24.Qh4 also better than f6. Yes, if Anand simply thought f6 was winning by force that explains, of course. But if so a very bad mistake after such a long think."