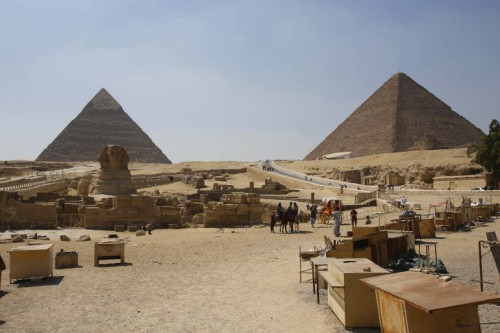 A 4,500-year-old port on the banks of River Nile, brimming with the glory of a prosperous civilisation in a bygone era, has been discovered near the Giza pyramids.
Archaeologists have retrieved the remains of a massive city and adjoining towns from the time of Pharaoh Menkaure when the last of pyramids were being built, LiveScience has reported.
The one-of-a-kind site has a harbour, barracks for troops or voyagers, and silo complexes for storing grain, all suggesting the existence of a vibrant city.
The remains of a host of ancient structures ranging from mansions, palaces and places of worship were also found, apart from a magnificent monument dedicated to Queen Khentkawes, possibly a daughter of Menkaure.
"Giza was the central port then for three generations", Mark Lehner, director of Ancient Egypt Research Associates, told a symposium organised by the Society for the Study of Egyptian Antiquities, the Post reported.
New Insights
The new findings have also led to significant new interpretations of sites already recovered.
What archaeologists had assumed to be the dwellings of pyramid slaves have turned out to be plush accommodations for royal soldiers and sailors, according to the researcher.
In the long buildings called "galleries", Lehner's team found charcoal remains from expensive wood, especially cedar, from Levant.
"What was all this cedar from the Levant doing in a common workers barracks?" Lehner asked.
He also pointed out that these troops were pictorially represented in the tombs of highly placed officials. "You have representations of these gangs, these troops, repeated over and over again."
The spacious galleries were structured to shelter about 40 people, which is about the size of a unit of troops, Lehner reasoned.
"I wonder if we are basically seeing barracks not of the workers, but of elite crews of ships," he said.
Other evidence from the galleries also suggests that the barracks were made for troops and crew, and not slave labourers of the pyramids.
Researchers found a broken hippo hip from the galleries in 2012, which is more likely to be found in the dwellings of troops.
"The young troops go out and they harpoon them and spear them," Lehner told the audience at the symposium.
The spearing of hippo was a ritual of the time, in which a captured and bound hippo was harpooned to death.
The occupants of the barracks ate a lot of goat, sheep and and fish, including bony and catfish, said Richard Redding, chief research officer at Ancient Egypt Research Associates, at a separate symposium.
However, if the barracks are indeed the dwellings of troops, then where did the pyramid builders stay?
The answer may lie in the pyramids themselves, says the researcher.
"We could probably be correct imagining workers staying on the immense ramps, on the unfinished pyramid as it rose," Lehner told LiveScience in an email, suggesting they could also have been living in simple dwellings akin to "lean-to's".