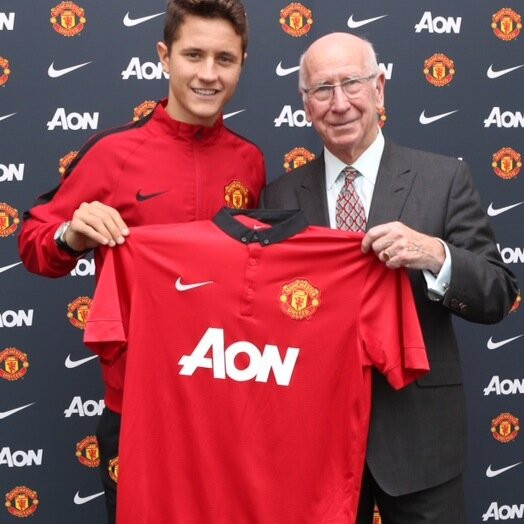 Manchester United's new signing Ander Herrera has said he "could not turn down" the chance to move to Old Trafford and described his new club as one of the biggest in the world.
In a thankyou letter to Athletic Bilbao fans, published on his Twitter feed, Herrera thanks Athletic Bilbao for all they have given him and expresses excitement about the move to Old Trafford.
Herrera published the letter within hours of completing his £28m transfer to Old Trafford, and becoming United's first signing under new coach Louis van Gaal.
He wrote: "Manchester United, one of the biggest clubs in the world for all its represents, will give me the opportunity to compete for all the trophies and continue to grow as a player and a person in another country and in another League; for this reason I have to tell you 'see you soon' today.
"I would never leave Athletic unless it was to join an irresistible project like this, since very few clubs in the world can offer me all that I have been lucky to live through at this great club. Sincerely I think this is a key moment in my career and I could not turn it down."
Herrera also expressed his gratitude to Athletic, saying "I have shared moments with incredible people, surpassing all expectations I had before joining. Marcelo Bielsa and Ernesto Valverde, their respective technical bodies, the board, doctors, physios and attendant staff. A special mention for all those people with whom I have shared so many and, why not say it, hard moments, those who have helped us become such a strong group.
"I could mention a lot more, only to give millions of thanks to all because you have made me a better player, a better person and you have taught me to make an impression with pride in the defence of Athletic.
"I want to dedicate my last thanks to all the supporters. Playing at San Mames [Bilbao's stadium] is one of the best things a football player can dream of. It's not just me saying it, all my professional colleagues say it as well. It wouldn't be like this were it not for a unique group of supporters who understand football like few others and whose love for their team is limitless. Thanks for all your support and love.
"I will never forget you and take it from me that I will always carry Athletic in my heart."