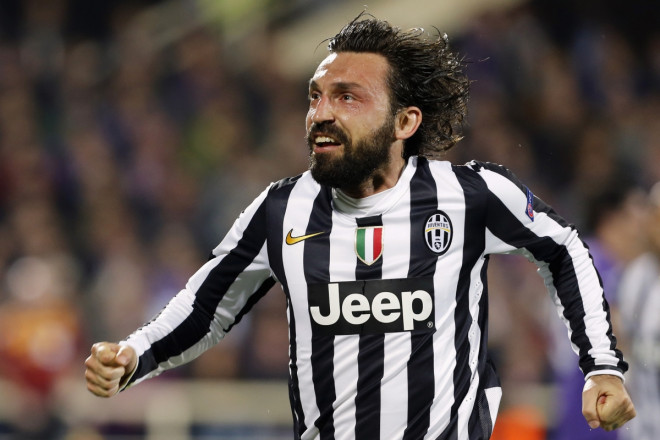 Andrea Pirlo says a prospective move to Chelsea collapsed in 2009 after AC Milan owner Silvio Berlusconi refused to agree a fee to allow the Italian international to move to Stamford Bridge.
Pirlo, whose autobiography has been published in English for the first time, was approached by the Blues manager Carlo Ancelotti to move to west London five years ago.
But with Kaka having joined Real Madrid for a then-world record fee earlier that summer, Berlusconi was not keen on allowing another of his star turns to leave and attempted to convince Pirlo to reject a move to Chelsea by promising the signing of Klass Jan Huntelaar.
"It was August 2009 and I'd reached agreement with Chelsea, the club where Ancelotti had just come in as manager," Pirlo wrote. "Carlo was like a father and a teacher for me, a kind, friendly man who knew how to make things fun.
"I'd spent the best years of my career with him. If you're a player who wants to get on and give everything, you won't find anyone better than him. Carlo Ancelotti was my motivation for agreeing to head to London. But, in the meantime, Berlusconi had pulled out a second piece of paper.
"This time there were loads of names with ticks next to them, and one that had been circled. 'Stay. We've signed Huntelaar'. Klaas-Jan Huntelaar is an excellent player. He knows how to score goals, loads of goals and, at that point in time, he was playing for Real Madrid. But he's not the type of guy who's going to win the Ballon d'Or.
"'Listen, Andrea, you just can't do this, damn it. You're the symbol of Milan, a standard bearer for this team, and we've already sold Kaka. You can't jump ship as well. It'd be a terrible blow, to our image as much as anything. We can't have everyone leaving.'
"Ancelotti and I spoke a fair bit on the phone. He wanted to bring me to London at all costs, and cost was indeed the last hurdle still to be overcome. Insurmountable, as it transpired.
"Milan wanted too much cash, and they were also pushing for Branislav Ivanovic to be included in the deal. Chelsea hadn't the slightest intention of letting the defender go.
"As it turned out, I moved to Juventus. That's Berlusconi all over, though. He's theatrical and knows exactly what he wants. It's what makes him such a fantastic president and lover of pure, beautiful football."
While Ancelotti lasted just two seasons at Chelsea despite winning the double in his first term, Pirlo - a World Cup winner with Italy in 2010 - eventually moved to Juventus in 2011 and is still regarded as one of the finest midfielders in Europe.